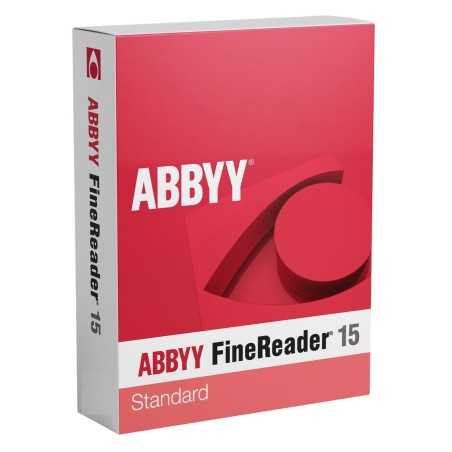  
ABBYY FINEREADER 15 PDF 1 PC 3 YEARS
Secure and Fast Payments
Only E-Mail Shipping
100% Original and Guaranteed Licenses
Professional Technical Assistance
Simplified handling of PDFs thanks to ABBYY FineReader 15 Standard
Compared to ordinary Worddocuments, PDF documents have many advantages as well as some disadvantages. Among other things, they are often difficult to search, sometimes impossible to edit, and editing is not always easy. Companies that purchase ABBYY FineReader 15 Standard benefit from powerful OCR (Optical Character Recognition) technology: text blocks are recognized and digitized even in graphics, making them searchable afterwards. Long manual searches through existing PDFs are no longer necessary, because: Using this software, searching for content becomes as easy as searching any Word document. This saves time and frees up capacity for other, more important tasks in an operation.
The integrated OCR technology scans any PDF file for text modules and translates them into digital components - even if the text modules are actually only available as image files. This means that users are able, for example, to change the formatting of text in PDFs, edit tables, change the layout or move individual elements. ABBYY FineReader 15 Standard turns the often very rigid basic structure of a PDF file into a flexible document that adapts to the user's wishes - and not the other way around. Despite these advanced capabilities, the program does not require powerful hardware. Consequently, it can be used without any problems even on already somewhat older devices in the home office or office.
Need to transfer a document to another format?  ABBYY FineReader 15 Standard supports conversion to many other formats commonly used in productive environments. This works not only with documents commonly used in this country, but also with texts in which, for example, characters from Asian language areas are embedded. Nevertheless, an exact conversion is achieved by recognizing the text layer quality. The result is a guaranteed conversion into formats that can be easily edited, paving the way for productive use of the desired document. For this, the user does not even have to become active himself, because the entire process takes place completely automatically.
Of course, the software also transfers analog data into digital format: users scan paper documents and have them immediately converted into PDF files by ABBYY FineReader 15 Standard. This works with both classic text documents and fancy graphics. If necessary, the user can also protect and sign the PDF file afterwards. This ensures that no further processing can take place without prior authorization. The user can then edit the resulting files as desired using another PDF tool of his choice. This makes it possible to edit analog text formats on the computer - without time-consuming manual work and with a single, traceable workflow.
In conclusion, all companies that purchase ABBYY FineReader 15 Standard will benefit from a highly optimized work process when handling documents of any type. The entire workflow is made digital and therefore searchable - which drastically speeds up processing and also the sharing and joint editing of documents. Long search processes are completely eliminated for all employees. This enables companies to organize even large volumes of PDF files efficiently and, at the same time, ensures that the latter remain easy to find even after a long period of time. In everyday work, users can make use of small convenience functions - such as copying and pasting from PDFs into other formats - to speed up work processes. Thanks to the metadata, searching for files even in large PDF archives is pleasantly quick.
System requirements

Operating system: at least Windows 7 or newer

CPU: 32- or 64-bit CPU with SSE2 support and at least 1.0 GHz clock speed

RAM: at least 1 GB RAM - 4 GB recommended plus 512 MB RAM per CPU socket

Hard disk: at least 1.2 GB per installation plus an additional 1.2 GB for optimal performance

Display: at least 1,024 * 768 pixel resolution
1 other product in the same category: