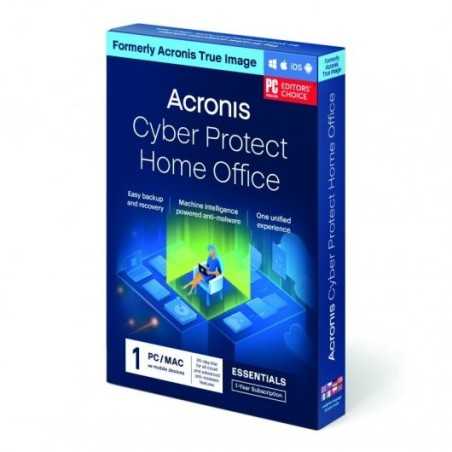  
ACRONIS CYBER PROTECT HOME OFFICE ESSENTIALS 1 DEVICE 1 YEAR
Secure and Fast Payments
Only E-Mail Shipping
100% Original and Guaranteed Licenses
Professional Technical Assistance
Protect your digital world from all threats
True cyber protection
Hard disks fail. Coffee spills. Cyberthreats attack. Keep your digital world safe from all threats with the only cyber protection solution that delivers a unique integration of data protection and cybersecurity in one.
Easy-to-use backup and antivirus
Protects everything – photos, files, applications, systems, and the devices they're on – through an intuitive interface that's accessible from anywhere.
Efficient all-in-one protection
Unifies reliable backup and advanced anti-malware in one full feature solution, eliminating the cost and complexity of managing multiple tools.
Secure from all cyberthreats
Stops any threat from disrupting your digital life, from disk failure to lost/stolen devices to the latest cyberattacks – including those never seen before.
Have peace of mind knowing your devices and backups are protected
Never lose precious files or expensive applications and when you need – restore your system in a flash.
Back up what you want (from full system images to individual files) where you want (locally or to the Acronis cloud)
Restore your entire system to the same or new hardware in just a few clicks with our fast recoveries
Create direct cloud-to-cloud backups of your Microsoft 365 account, including Outlook.com mailbox and OneDrive.
Essentials Version Include Only:
Flexible backups: full image to file-level
Active disk cloning
Quick recovery / Universal restore
Ransomware protection