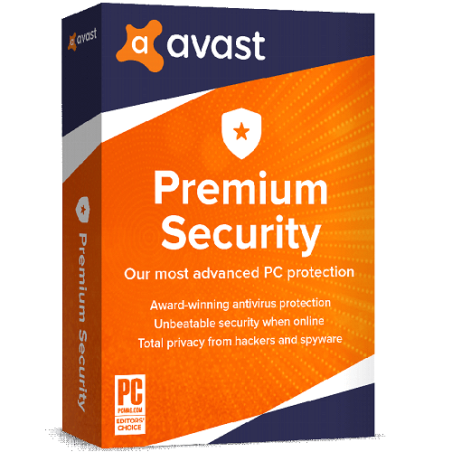  
AVAST PREMIUM SECURITY 1 DEVICE 3 YEARS
Secure and Fast Payments
Only E-Mail Shipping
100% Original and Guaranteed Licenses
Professional Technical Assistance
Avast Premium Security
Award-winning antivirus plus layers of extra security.
Viruses, ransomware, scams, and other attacks target Windows more than any other operating system. So if you're a PC owner, the stronger your protection, the better.
Block viruses, spyware, and other threats in real-time
Enjoy peace of mind with advanced ransomware protection
Get an alert if any passwords connected to your email accounts have been hacked or leaked.
Avoid fake websites for safer online shopping and banking
Keep hackers off your computer with our advanced firewall
Prevent strangers from watching you via your webcam
Secure your browser-stored passwords against theft
Stop hackers from remotely taking control of your PC
Security that's tailored to fit your needs
Custom features for PC, Mac, Android, and iPhone/iPad secure your devices where it's needed most.
Single- and Multi-Device options let you choose the protection that works best for you.
"Up to 10 devices" means you can share your security with every one of your devices or everyone closest to you.
Protection against your greatest online foes
Avast Premium Security protects against all online threats including spoofed websites and ransomware.
Now you can safely shop and bank online
Spoofed (fake) websites are one of the oldest hacking tricks in the book. Avast Premium Security scans websites for security risks on both your computer and mobile phone, so you can finally shop and bank online safely on any device.
Stop hackers from taking over your PC
Remote access attacks are on the rise — and the last thing you want is for a hacker to remotely take control of your PC and infect it with malware or lock your files with ransomware. Avast Premium Security now protects your PC against these attacks.
Your Mac is not immune to malware. And malware isn't even the only threat Macs face. Malicious websites and vulnerable Wi-Fi networks can also jeopardize your safety — unless you have the right protection.
Android
Android phones are vulnerable to both malware and theft. So having the best anti-malware and anti-theft protection in your pocket can save you a lot of headaches (and money) down the line.
iPhone/iPad
iOS security isn't about unnecessary antivirus and malware protection — it's about making sure iPhone and iPad users are safe every time they go online. Unsecure Wi-Fi networks and identity theft can put anyone at risk.
7 other products in the same category: