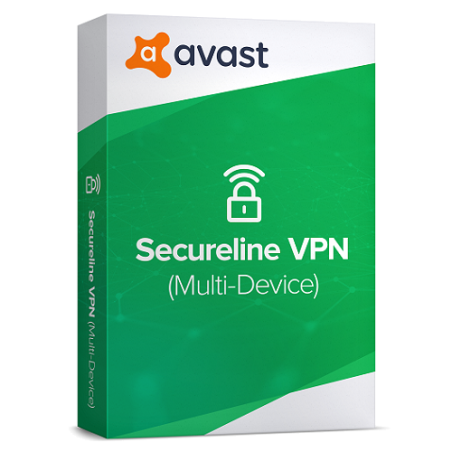  
AVAST SECURELINE VPN 10 DEVICES 1 YEAR
Secure and Fast Payments
Only E-Mail Shipping
100% Original and Guaranteed Licenses
Professional Technical Assistance
Download Avast SecureLine VPN Software
Try our VPN for free —no credit card needed. Hide your IP address, secure your Wi-Fi connection, strengthen your privacy, and access the content you love, wherever you are.
For those who want online freedom
Avoid being hacked on public Wi-Fi, stop third-parties tracking your online activities, and access your favorite content no matter which country you're in with Avast SecureLine VPN.
Get true privacy
Hide your internet activities from your internet provider, hackers, employers, and much more.
Connect securely
Protect your privacy wherever you connect, even on unsecured public Wi-Fi.
Access the content you love
Get around content blocks and enjoy your favorite paid streaming services from anywhere.
Enjoy lightning-fast browsing
Choose from a wide selection of speedy servers located all around the world.
Get one-click privacy protection with all the features you need
Stay safe with open-source privacy protection
SecureLine VPN is built on OpenVPN and OpenSSL, the most widely-used, reliable, and transparent privacy protection protocols.
Relax — we don't log your activities
Nobody can see which apps you use, websites you visit, or the content you engage with.
Keep spies away with 256-bit AES encryption
Safely encrypt all your incoming and outgoing data so online snoops can't see it.
Be anonymous
Disappear in a crowd of other Avast SecureLine users, with a single shared IP address.
Secure any Wi-Fi or network
Connect safely to any hotspot — even unsecured public Wi-Fi in coffee shops, airports, libraries, and parks.
Hide your IP Address
Keep your real IP under wraps over IPv4 and block IPv6 requests with DNS leak protection.
Stream and game effortlessly
Share streams simply and privately — just select servers support P2P.
Access content around the world
Avoid geo-blocks and access your favorite content, no matter where in the world you are.
Enjoy a better P2P experience
Enjoy hi-def movies, lag-sensitive twitch gameplay, and easily transfer large files with a click.
Choose from 700 servers in 34 countries
Wherever you live, we've got the perfect server for you.
Access Android TV
Stream content directly on your Android smart TV, NVIDIA Shield TV, or Mi Box, privately and securely.
Stop online spies and snoops
Don't worry about your employer, government, or ISP spying on your online activities. One click — and they can't see anything.
What is a VPN?
Avoid being hacked on public Wi-Fi, stop third-parties tracking your online activities, and access your favorite content no matter which country you're in with Avast SecureLine VPN.
Internet Service Providers can:
See everything you do online
Sell your medical, financial, and browsing history
Employers can:
Snoop on your online activities
Limit your career opportunities if you transgress company policy
Hackers can:
Steal your identity
Hack into your accounts
Governments can:
Censor what you see
Spy on you
Avast SecureLine VPN protects your privacy
Hide your IP address
Your IP address is one of the main ways internet service providers, and others, keep track of you online. So don't give them more than you have to: our servers will be your mask by giving you a new IP Address.
A single shared IP address
It's easier to get lost in a crowd. Whenever you connect to our servers, you get the same IP address as everyone else connected to it – this makes it that much harder for traffic on that server to be associated with any one of you.
Get DNS leak protection
We make sure that your browsing data is secure against DNS leaks, so your internet service providers never sees your IP Address or what you're doing online.
Enjoy no activity logging
Once you're connected to our servers, we don't track the apps you use, the websites you visit, or the content you consume, period. If someone asks, we just can't answer.
Smart VPN Mode
Enjoy a seamless browsing experience with no compromise on privacy and security. Smart VPN automatically selects your optimal server location, so you can focus on enjoying your connected life with no hassle.
Hides your online activities
Doesn't log websites visited or app usage
DNS leak protection
Make any connection secure
Protect yourself against wider network threats, hackers, and scammers with just one click. You're not alone on that network. We use bank-grade encryption to safely tunnel your communication through any network — no matter how sketchy.
A VPN also protects you from network threats
With bank-grade encryption, your data is always secure and safe from online scammers and network threats.
Get privacy protection built on transparency
We've built your protection on the most widely used and trusted VPN protocol: OpenVPN. It is the most trusted because it's open source. No unknown proprietary code is doing odd things with your data. We use OpenSSL libraries and run the whole thing over UDP ports so you get the fastest speeds.
Get security you can always trust
Our cipher of choice is 256-bit advanced encryption standard (AES). Why? It would take a hypothetical hypercomputer years to crack it. It's also because there wouldn't be enough energy in the universe to run this hypothetical computer in the first place. We're thorough that way.
Apple-approved
Our iOS and macOS implementations use the IPsec protocol, and we've built it all on Apple's proprietary stacks to ensure the best compatibility and performance. Our goal: connecting you at lightning speed.
Protect yourself against common online scams
It's not always easy to spot when you're being tricked or exploited online but Avast SecureLine VPN gives you advanced protection against these common types of attacks.
Avoid packet sniffing
You're connected to an open, unprotected network and log into your accounts. But you're not alone on the network.
When you get a cookie, the intruder gets a cookie — and now they have access to your account.
Stop fake hotspots
You're connected to your favorite hip coffee shop Wi-Fi, right?
Are you sure it's their network? Do they even have Wi-Fi?
Maybe they don't and you're now mainlining your data into an attacker's computer.
Beware the evil twin trick
Your devices just love to auto connect to known networks and save you time.
That's a pretty risky thing to do.
It's easy to create a doppelganger network that will fool your phone, computer – or even you.
Stop man-in-the-middle attacks
Unknown to you, someone inserts themselves between you and the internet.
They can change what you see on your favorite sites, redirect you to fake sites, take over your communications, and steal your accounts and passwords.
Bank-grade encryption
Based on open-source technology for Windows and Android
Apple-approved for best compatibility and performance
Protection over public Wi-Fi and unsecured networks
Access the content you love, from wherever you are
Avoid content restrictions, and enjoy your favorite shows, streams, and websites, from wherever you are in the world.
It's your internet, take it back
Your IP address isn't just used to track you online, it's also used to bar you from certain services. Avast SecureLine VPN stops spies and lets you access the content you love, anonymously, from wherever you are.
Forget about content restrictions
Experience true online freedom and access to your favorite content. Choose your optimal server from 55 server locations worldwide.
Get better online deals
Save your cash and shop smart. Avoid price discrimination (when a product is offered at various prices over different regions.) Just use Avast SecureLine VPN to find the best offers.
Easily connect with your peers on P2P
Many of our server locations support peer-to-peer (P2P) networking and you can see which ones — they're clearly marked on your selection screen.
Enjoy smooth uninterrupted streaming
Stream sporting events in hi-definition and without constant buffering. Because our protocol runs over UDP, our server locations have enough bandwidth to ensure a high-quality streaming experience.
Use your social media at school or work
Need to check Facebook or Instagram at school or at the office? Now you can — hidden from online watchers and no questions asked.
Smart VPN
Enjoy a seamless browsing experience with no compromise on privacy and security. Smart VPN automatically selects your optimal server location, so you can focus on enjoying your connected life with no hassle.
Access your favorite sites
Stream your favorite shows
Peer-to-peer support
Get around price discrimination
Stream securely on Smart TVs running Android TV
Jump on the couch, put your feet up, and stream your favorite content directly on your Android smart TV, Nvidia Shield TV or Mi Box. Goodbye, hackers and restricted access — hello there, big screen.
Security for all Android TV devices
Privacy for your big-screen streaming
No bandwidth limits
Do it all lightning fast
There's no point in having a secure, private internet connection if it just won't load. We're constantly upping the speed and performance of our servers, so you always enjoy the online experience you expect.
Where speed meets capacity
Connect securely with the confidence that your speed and performance won't be affected — with our network of servers, we can handle almost any capacity.
Enjoy top performance — even at the busiest times
All of our VPN gateways run on dedicated hardware servers and we make sure they have enough excess capacity to maintain performance even under peak loads. We run systems on top of that to balance web traffic, so our servers never become overloaded.
Capacity at scale
Avast SecureLine VPN is currently backed by more than 700 servers — we add more all the time and they're yet to reach their limits. But if we ever get close, we can quickly extend our capacity by tapping into a trusted network of partners across the world.
Speed under pressure
Each of our servers has a theoretical maximum throughput of 2 Gbit/s. But theory isn't the real world. We regularly put them through stress tests and get average speeds of 450-600 Mbit/s even under periods of intense loads. And since it's all running over UDP, it's always fast enough for whatever you need.
Stream, game, or download large files
Up to 10 devices
Up to 2 Gbits/s speeds
No bandwidth limits
AVAST SECURELINE VPN
Get Avast SecureLine VPN to start enjoying truly private browsing
1 other product in the same category: