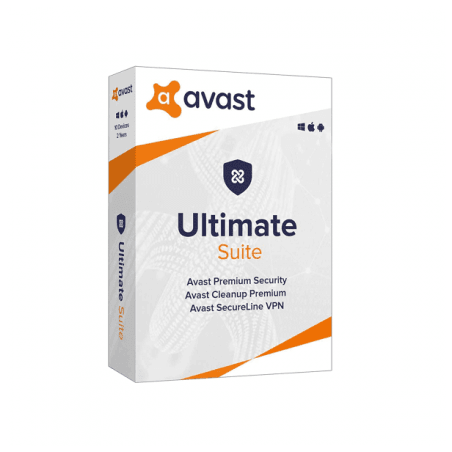  
AVAST ULTIMATE SUITE 1 DEVICE 2 YEARS
Secure and Fast Payments
Only E-Mail Shipping
100% Original and Guaranteed Licenses
Professional Technical Assistance
Avast Ultimate is your personal all-in-one online guardian — ready to protect you with award-winning antivirus, plus
powerful privacy and performance tools like VPN and device cleanup.
INCLUDE:
AVAST PREMIUM
Award-winning antivirus plus layers of extra security.
Protection against your greatest online foes
Avast Premium Security protects against all online threats including spoofed websites and ransomware.
Now you can safely shop and bank online
Spoofed (fake) websites are one of the oldest hacking tricks in the book. Avast Premium Security scans websites for security risks on both your computer and mobile phone, so you can finally shop and bank online safely on any device.
Avast Premium Security keeps you safe by automatically redirecting you to secure sites, ensuring that you never land on a spoofed website. It also protects against hacked routers that use fake DNS settings to send you to fake websites.
Stop hackers from taking over your PC
Remote access attacks are on the rise — and the last thing you want is for a hacker to remotely take control of your PC and infect it with malware or lock your files with ransomware. Avast Premium Security now protects your PC against these attacks.
Detect and block brute-force attacks by counting unsuccessful login attempts within a specified period of time and blocking the IP address associated with these attempts.
Secure known OS vulnerabilities and prevent RDP exploit attacks aimed at breaching them.
Automatically block all IP addresses known to distribute malware by exploiting RDP ports. Our database is continuously updated using our AI algorithm.
Whichever devices you use, we've got you covered
Windows PC
Viruses, ransomware, scams, and other attacks target Windows more than any other operating system. So if you're a PC owner, the stronger your protection, the better.
Mac
Your Mac is not immune to malware. And malware isn't even the only threat Macs face. Malicious websites and vulnerable Wi-Fi networks can also jeopardize your safety — unless you have the right protection.
Android
Android phones are vulnerable to both malware and theft. So having the best anti-malware and anti-theft protection in your pocket can save you a lot of headaches (and money) down the line.
AVAST CLEANUP
Speed up, tune up, and optimize your Windows PC
Your PC isn't getting any younger. Fix what's slowing you down with Avast Cleanup Premium's patented breakthrough technology.
Puts apps to sleep
Removes bloatware and forgotten programs
Defrags and optimizes your hard disk
Give your PC a proper clean up
Running out of disk space? Not anymore. Avast Cleanup scans your PC from top to bottom to remove gigabytes worth of leftover junk files from more than 200 applications, browsers, and even Windows.
AVAST SECURELINE VPN
For those who want online freedom
Avoid being hacked on public Wi-Fi, stop third-parties tracking your online activities, and access your favorite content no matter which country you're in with Avast SecureLine VPN.
Get true privacy
Hide your internet activities from your internet provider, hackers, employers, and much more.
Connect securely
Protect your privacy wherever you connect, even on unsecured public Wi-Fi.
Access the content you love
Get around content blocks and enjoy your favorite paid streaming services from anywhere.
Enjoy lightning-fast browsing
Choose from a wide selection of speedy servers located all around the world.
AVAST ANTITRACK
Strengthen your privacy by disguising your online identity and stopping advertisers from tracking your online activities.
Take back your privacy
Your browser knows more about you than your mother, spouse, boss, even your doctor. And it's exposing everything to advertisers, data miners, or anyone who sits down at your computer.
Know when you're being tracked
When advertisers track your online activity, we automatically expose and block them.
Keep your true identity private
When you're browsing, we disguise your online behavior so that no one can tell it's you.
Stop targeted advertising
When you're shopping online, we hide your purchases so you don't see the same ads.
Keep your operating system private
Stop third parties from seeing, tracking, and collecting information about your Windows® 10 PC.
6 other products in the same category: