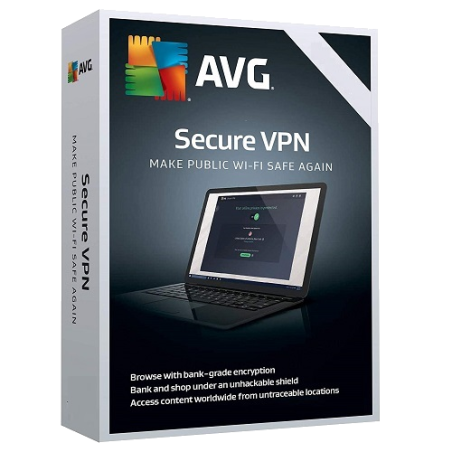  
AVG SECURE VPN 10 DEVICES 2 YEARS
Secure and Fast Payments
Only E-Mail Shipping
100% Original and Guaranteed Licenses
Professional Technical Assistance
AVG Secure VPN
Browse privately and secure your Wi-Fi anywhere
You need a VPN. Here's why
Secures any Wi-Fi, wherever you go
Your browsing, banking, and online payments stay hidden and protected, whether you're at home or using public Wi-Fi.
Keeps your online activity private
An encrypted connection means nobody sees what you do online. That includes hackers, your ISP, and even the government.
Gives you unrestricted worldwide access
A list of anonymous international servers lets you pick a country of your choice, and surf and stream as if you were there.
Simple and powerful VPN service
Download your VPN, install it, and join a secure connection with the click of a button.
Military-grade encryption
Encryption levels of 256 bit AES standards secure your online activity from prying eyes.
Streaming support: over 50 locations to choose from
Our dedicated streaming servers help you keep up with your favorite shows on the go.
Works in up to 10 devices simultaneously
This VPN is not just for your Windows PC: use it on your Mac, Android and iOS device.
VPN software for Windows PC in 3 easy steps
Connect to any Wi-Fi
At home or at work, at school or in a coffeehouse, airport, or store — our VPN client works anywhere.
Switch Secure VPN on
Launch Secure VPN and click the ON button. You can select a different location at any time.
Browse securely and anonymously
That's it! Anonymous browsing, a hidden IP address and hidden location, all in one click.
What does AVG Secure VPN do, exactly?
AVG Secure VPN encrypts your network connection and routes it through another server to hide your IP address and keep you anonymous online. With a new IP address and a securely encrypted internet connection, you can hide your online activity from hackers and your ISP, protect your data over free public Wi-Fi, disguise your identity online, and unblock your favorite websites and content. There are lots of benefits of using a VPN.Take a look at our complete guide that covers all you need to know about VPN protection, then learn how to set up a VPN on Windows or how to use a VPN on your mobile phone. And be sure to check out all our VPN tips, guides, and advice.
Why is AVG Secure VPN safe to use?
AVG Secure VPN is safe to install on any Windows, Mac, Android, or iOS device, and gives a superior level of protection to free VPNs or web-based proxies. With AVG Secure VPN, your traffic is protected with 256-bit AES encryption, the same standard used by banks around the world.
However, different countries have varying rules on the use of VPNs. Find out if VPNs are legal in your country before using AVG Secure VPN or another similar service. If you want to learn more about the difference between free VPNs, web-based proxies, and Tor Browser, we've got you covered.
Can you be tracked using AVG Secure VPN?
AVG Secure VPN prevents anyone from tracking you online based on your actual IP address. And because your connection to the internet is encrypted, no one can monitor the digital trail you leave behind online.
However, other methods of web tracking — such as tracking cookies or browser fingerprinting — will still work whether or not you're using a VPN. While a VPN can greatly increase your privacy, you need specialist anti-tracking software to avoid the kind of browser tracking that exists today.
2 other products in the same category: