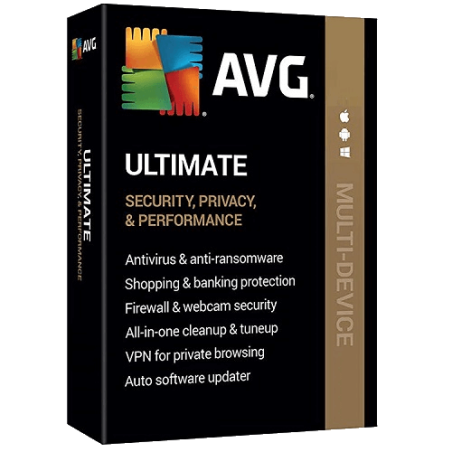  
AVG ULTIMATE 1 DEVICE 1 YEAR
Secure and Fast Payments
Only E-Mail Shipping
100% Original and Guaranteed Licenses
Professional Technical Assistance
AVG Ultimate
AVG Ultimate is an all-in-one, multi-device bundle that includes our three most powerful and popular services. You can secure, optimize, and encrypt up to 10 PCs, Macs, or mobile devices.
Included:
Internet security
TuneUp
Secure VPN
Mobile Package
AntiTrack
Packed with our best features, tools, and services
Antivirus protection
Enjoy protection from hackers, ransomware, webcam hackers, and malware of all kinds thanks to layers of specialized security.
Faster performance
Work 30% faster and start up 79% sooner with a suite of powerful optimizations and cleanup options.
Powerful 256-bit encryption
Secure your connection with military-grade encryption that allows you to enjoy public Wi-Fi safely and anonymously.
For up to 10 devices
Give up to 10 PCs, Macs, and mobiles the best security, performance, and privacy AVG has to offer.
Battery Profiles
Swap between different profiles depending on your situation to maximize performance while minimizing battery use.
Device Lock
Add an additional layer of protection to your device to stop unwanted visitors from accessing your phone.
Startup Optimizer
Stop software you don't use or care about from slowing down your device's boot-up time, speeding up the process.
Payment protection
Ensure all your online payments are encrypted and safe from hackers and spies.
Software Updater
Keep all your software up-to-date, improving their performance and fixing vulnerabilities in your security.
Smart Photo Cleaner
Easily find duplicate and poor-quality photos and delete them, so you have more space for the stuff that matters.
Browser and Disk Cleaner
Find and erase unused junk files stealing data and slowing down your PC.
Access content worldwide
Get around geo-blocks by connecting to remote servers around the globe, so you can enjoy content anywhere and everywhere.
Sensitive Data Shield
Secure your most valuable files with an extra layer of protection, ensuring nothing gets the data that matters most.
Anti-Theft
Use a suite of features, including a camera trap, GPS tracking, and more to find a lost phone and discover any thieves.
Automatic Maintenance
Run tuneups automatically at a time that works for you, to ensure your devices keep running their best.
Save money shopping online
5 other products in the same category: