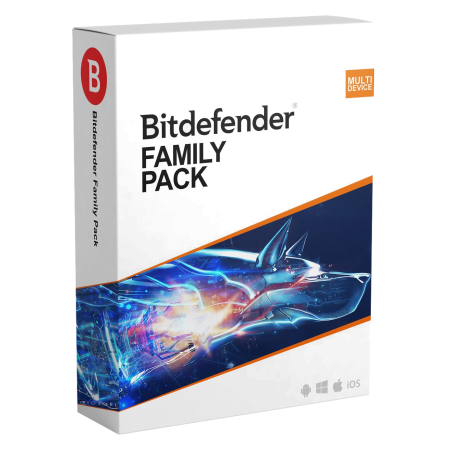  
BITDEFENDER FAMILY PACK 15 DEVICES 1 YEAR
Secure and Fast Payments
Only E-Mail Shipping
100% Original and Guaranteed Licenses
Professional Technical Assistance
Bitdefender Family Pack Multi Device: android windows mac ios
One security suite for your entire family
Keep your family safe from all types of online threats with the ultimate digital protection pack.
Protect up to 15 devices per household*
Unbeatable threat detection to stop sophisticated attacks with virtually no impact on system performance
Advanced parental controls to discreetly supervise your kids' online activities
Multi-layer ransomware protection to keep your documents, family photos and videos safe
Secure VPN for complete online privacy, 200 MB/day/device
Comprehensive support 24/7
Bitdefender. Choose What The Experts Use.
You get the most innovative technologies that predict, prevent, detect and remediate even the latest cyber-threats, anywhere in the world.
Complete Protection for Windows, macOS, iOS and Android
Bitdefender Family Pack brings major changes to the way online threats are detected and repelled. The latest network-based adaptive layer of protection prevents exploitation of vulnerabilities in your system, and detects and blocks brute-force attempts. Stops botnet attacks from compromising your device and prevents the sending of sensitive information in unencrypted forms.
Protection
Bitdefender`s unbeatable multi-layered protection keeps your devices safe from all new and existing online threats.
Performance
Bitdefender's security software reacts instantly to online threats with no compromise to your system's performance.
Privacy
Bitdefender Family Pack takes care of your online privacy and personal information.
Frequently asked questions
How does Bitdefender Family Pack protect me against cyber threats?
Bitdefender Family Pack provides the best protection in the industry, as proven by the last 10 years of independent test scores.
Easy to install and use, Bitdefender Family Pack reacts instantly to cyber threats with no compromise to your system's performance.
Does Bitdefender Family Pack protect me against ransomware?
Ransomware is malicious software designed to block access to the personal files on your computer until a sum of money is paid to the attacker.
Bitdefender Family Pack offers unbeatable ransomware protection that keeps your documents, pictures and videos safe from all known and emerging cyber threats.
This security solution can identify even the latest ransomware families through the use of multiple layers of protection designed to detect malware during various stages of the attack.
What type of devices and operating systems does Bitdefender Family Pack cover?
Bitdefender Family Pack will protect your Windows PCs, Macs, smartphones and tablets running Android or iOS against all cyber threats.
Why do I need Bitdefender Family Pack on Windows 10/ macOS/ Android?
Windows 10 lets you run the security program of your choosing, and Bitdefender Family Pack is the perfect option if you need a complex digital protection suite that covers all devices and operating systems in your household.
With the rapid evolution of malware, Macs have become increasingly vulnerable. This is why it is always recommended to leave security in the hands of specialists. Bitdefender Family Pack makes sure your Mac is protected from all new and existing cyber-threats.
Some of your most personal data is stored on your Android smartphone - and you need to know it is safe at all times. Bitdefender Family Pack takes care of your online privacy and private information without interfering in your day-to-day activities.
How does Bitdefender Family Pack compare to other Bitdefender security suites?
Bitdefender Family Pack comes with a basic version of Bitdefender VPN that includes a generous amount of traffic (200 MB/ day, a total of 6GB/ month), free of charge.
1 other product in the same category: