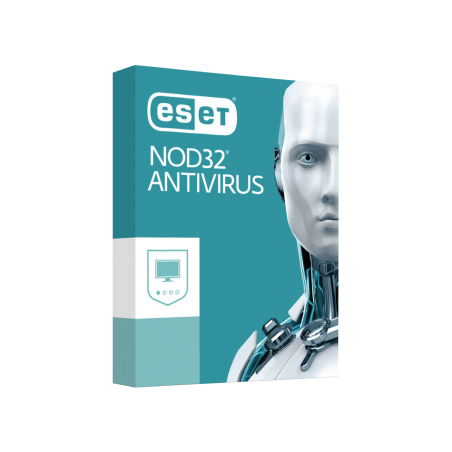  
ESET NOD ANTIVIRUS 3PC 2 YEARS FOREIGN US EX-BOX
Essential antivirus protection
Secure and Fast Payments
Only E-Mail Shipping
100% Original and Guaranteed Licenses
Professional Technical Assistance
ATTENTION: BEING FOREIGN YOU HAVE TO SELECT A SPECIFIC COUNTRY DURING THE FIRST ACTIVATION AND THEN IT WORKS IN YOUR COUNTRY WITHOUT PROBLEMS.
 Essential antivirus protection
ESET NOD32 ANTIVIRUS
Fast and light, vital for gamers and everyday users that don't want any interruptions. Just install and forget.
Legendary antivirus technology
Anti-phishing
Secure your data and money against digital fraud.
No slowdowns
Enjoy the full power of your computer without interruptions.
Multilayered proactive protection
Explore the great online, safe from all types of malware threats.
What's inside ESET NOD32 Antivirus?
Multilayered security
Antivirus and Antispyware
Ransomware Shield
Advanced Machine Learning
Scan While Downloading Files
Idle-State Scanning
Exploit Blocker
Host-Based Intrusion Prevention
System (HIPS)
Advanced Memory Scanner
WMI Scanner
Cloud-Powered Scanning
System Registry Scanner
Script-Based Attack Protection
UEFI Scanner
System requirements
Microsoft Windows® 11, 10,
16 other products in the same category: