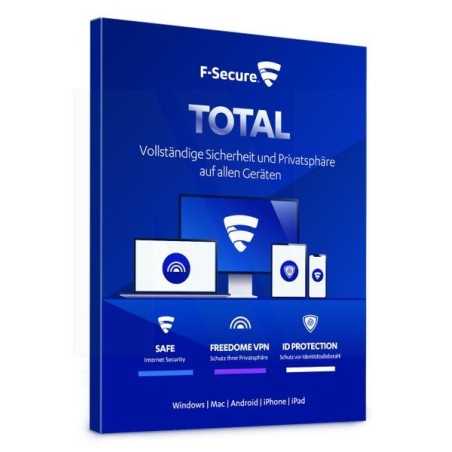  
F-SECURE TOTAL 3 DEVICES 2 YEARS
FULL PROTECTION FOR HALF THE PRICE
Secure and Fast Payments
Only E-Mail Shipping
100% Original and Guaranteed Licenses
Professional Technical Assistance
F‑Secure TOTAL
FULL PROTECTION FOR HALF THE PRICE
Why F‑Secure?
NORDIC ONLINE SECURITY
The Finnish key flag is a registered trademark that proves the product is made in Finland.
AWARD-WINNING PROTECTION
Top-level protection with multiple best protection awards across the world.
WITHIN EU PRIVACY LAWS
Your personal data is handled according to EU jurisdiction and GDPR.
TOTAL includes all the protection you need to secure your online activities, your devices and yourself
Secure, easy to install and good defence against viruses, hacking and tracking.
All the protection you need in one package
SAFE internet security
Protection against viruses and ransomware, safe online shopping and banking
FREEDOME VPN
Keep your browsing private and stay safe from hackers, trackers, and intrusive companies
ID PROTECTION password manager
Password management and online identity protection with real-time data breach alerts
How TOTAL protects you
TOTAL is an all-in-one package that includes every­thing you need to protect your privacy and your devices from online threats.
STOP VIRUSES AND PROTECT YOUR MONEY
Our award-winning anti­virus protects you from more than viruses and malware. Keep your money safe while banking and shopping online with banking protection. Block web­sites that try to scam you out of your money or personal information with Browsing protection.
SECURE YOUR INTERNET CONNECTION WITH A VPN
Protect your privacy and encrypt your internet connection with a fast and unlimited VPN to prevent hackers, trackers, and intrusive companies from spying on your online activities.
PREVENT ONLINE IDENTITY THEFT
Protect your online identity by storing your pass­words securely and accessing them easily from any device with a handy pass­word manager. Get real‑time breach alerts when an online service you use gets hacked and your personal information is leaked online.
OPTIMIZED FOR STREAMING AND GAMING
Stay safe without performance loss when gaming or streaming media by turning on Gaming mode. Gaming mode optimizes security and Windows settings and functionalities for an uninterrupted experience.
ADVANCED PARENTAL CONTROLS
Set healthy boundaries for your children on their personal devices. Keep them safe from harmful online content and moderate their screen time. Manage the boundaries remotely in My F‑Secure.
The most powerful security features in one subscription
Antivirus: Keep your devices safe from viruses, trojans, ransomware, adware, keyloggers, spyware, and other malware with our award-winning technology.
Browsing protection: Explore the internet and stay safe from harmful and dangerous web pages to ensure your security and privacy.
Ransomware protection: Stay ahead of online criminals and protect yourself from the increasing amount of ransomware.
Banking protection: Banking protection lets you know when you enter a safe banking site and keeps your money safe by securing the connection to the site.
Parental control: Protect your kids' safety online with Family rules by setting limits for their screen time and blocking harmful content.
Gaming mode: Enjoy protected gaming and streaming on Windows computers with uncompromised performance.
Personal VPN: Protect your privacy by encrypting your connection, and hide your real IP address from the web pages you visit.
Wi‑Fi protection: Your internet connection is secured so that no one can hack it when you use public Wi‑Fi.
Virtual location: Change your virtual location and add an extra layer of privacy.
Tracking protection: Stop advertisers from tracking you and making money at the expense of your privacy.
Kill switch: Prevent accidental leakage of your data to the internet during momentary VPN outages. Available on Windows, Mac, and Android.
Password manager: Store and access your passwords securely from any device. Be informed of weak and reused passwords and generate strong ones.
Auto-fill credentials: Make signing into online services faster and easier by filling securely stored user­names and pass­words automatically.
Online identity monitoring: Combines human intelligence and 24/7 dark web monitoring to find your personal information within data breaches.
Breach alerts: If a data breach occurs and your information is exposed, we will give you unique expert advice for each individual type of personal information.
My F‑Secure account: Renew or manage your protection through an easy-to-use management service.
Free customer support: Get free support and help from F‑Secure's experts.
30-day money-back guarantee: Buy risk-free! 30-day money-back guarantee for your purchase if you are not fully satisfied with the product.
Technical details
With all TOTAL subscription options, you can monitor up to 10 email addresses for data breaches.
The identity monitoring feature on desktop is accessed in My F‑Secure. Password auto-fill is available for Chrome and Firefox browsers.
FREEDOME VPN is available globally, with the exception of certain Middle East countries and China. See the full list of countries where FREEDOME is available.
SUPPORTED PLATFORMS
Windows 10, Windows 11, macOS 10.15 (Catalina) or later, iOS 14 or later, Android 7.0 or later. ARM-based tablets are not supported.
AVAILABLE LANGUAGES
dansk, Deutsch, English, español, español latino­americano, français, français canadien, italiano, lietuvių, Neder­lands, Norsk, polski, português, português brasileiro, suomi, svenska, tiếng Việt, русский, 日本語, 繁體中文 (香港)
3 other products in the same category: