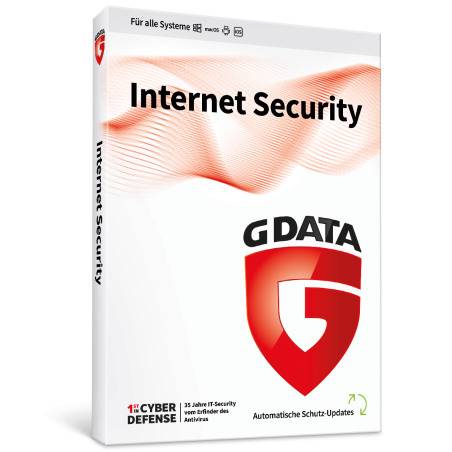  
G DATA INTERNET SECURITY 1 PC 1 YEAR
Next Generation Cyber Security
Secure and Fast Payments
Only E-Mail Shipping
100% Original and Guaranteed Licenses
Professional Technical Assistance
Internet Security
Next Generation Cyber Security. Strong online protection for you – on all of your devices.
Innovative
Best G DATA protection for Windows: Our brand new DeepRay® and BEAST technologies use artificial intelligence and behavioral analysis to detect camouflaged and previously unknown malware.
Secure on the Internet
Attacks during online banking and shopping, dubious websites, suspicious e-mails? No problem. Just keep on using the Internet and we'll take care of the rest.
Made in Germany
Your data is sacred to you? We can understand you well. That's why we attach great importance to maximum data security. And ensure that your data remains yours. Guaranteed.
Surf securely and with peace of mind with Internet Security – no matter on which device
The Key Features for Windows
Firewall
Monitors all incoming and outgoing connections to protect against hackers and spyware – fully automatically or according to your own rules.
Cloud-Backup
Automatically store your encrypted backups in the Cloud – using Dropbox or Google Drive.
Anti-Ransomware
No opportunity for extortion Trojans: Internet Security stops criminals encrypting your files.
G DATA BankGuard
Our patented technology secures your browser against manipulation by data thieves – for secure online banking and shopping.
The technology behind it
Anti-Spam
Stops spam such as advertising and phishing emails and keeps your mailbox clean.
How it works
Parental Controls
Control your children's Internet usage. Specify times and only let your children surf to approved sites.
Virus scanner
Put your trust in the highest detection rates with technologies working in parallel. Receive new virus signatures every hour, for the best protection against malware.
Exploit protection
Protects your computer against criminals exploiting security holes in Office applications and PDF readers, for example.
One license, complete protection
Put your security solution together
Put your security solution together in the way that best suits your life. Combine our award-winning Antivirus programs in a way that matches your preferences and protect all of your devices with just one license – whether it's a Windows PC, Mac, Android smartphone, or iOS tablet.
Manage your devices easily
Does your family likes to surf, game, and shop online? It's difficult enough getting everyone on the same page.
But security doesn't have to be one of the chapters in that particular book: From now on, you can easily manage all of your family members' security solutions in your personal My G DATA area. Did you get a new tablet for your birthday? No problem! Add another Mobile Security quickly and easily. You can also renew your license in My G DATA at any time. By the way: G DATA solutions for Windows provide the possibility to set up a child-friendly browser, to share only certain applications and to limit the usage time of the device.
How we protect you as you move around the web
When banking and shopping online
The connection between your bank and your computer is usually encrypted. Decryption of the data transfer takes place in your browser. Cyber criminals use banking Trojans to infiltrate this process. As soon as you carry out a transfer, the attackers manipulate the data being sent. Your money no longer goes to the intended recipient, such as an online shop, but ends up in a different account.
Of course, our virus scanner detects banking Trojans on the basis of their characteristics. If the malware already has its own signature, Internet Security renders the malware harmless while it is being downloaded. Our BankGuard technology* also protects you against dangers that are still unknown. The function ensures that your browser only displays checked, genuine content.
While you send and receive emails
Besides the files on your hard drive and on external storage devices, our virus scanner also checks your emails for malicious content. This applies to all messages you send and receive via the email program on your computer. If the scanner finds nothing, our Anti-Spam function is also activated. The application checks the email for features that are typical of spam. These characteristics are used to calculate a value reflecting the likelihood of it being spam.
In addition to the separate evaluation, the OutbreakShield technology* compares the results to a database on the Internet – patterns of viruses and spam emails sent en masse are collated here.
This enables Internet Security to close the gap that exists between the start of a mass mailing and the fight against it in real time, using specially adapted signatures.
When surfing
The virus monitor* checks every file that comes from the web. It stops infected documents, images and the like while they are being downloaded. This means that unnoticed downloads no longer pose a threat to you. When doing so, Internet Security not only relies on hourly updated virus signatures. Besides the signature scan, the software works with a Cloud solution. The properties of current files that contain malware are stored in this online memory. These properties are compared with those in your files – and you quickly find out if everything is OK.
Web addresses are also collated in the Cloud. If a URL is identified in the database as a distributor of malicious content, our browser protection blocks the site.
So when cyber criminals try to lure you into traps using phishing links, you have nothing to fear. This also applies to attacks via social networks. Links in fake posts and adverts are not opened in the browser.
Regardless of the Cloud*, our web protection checks every file sent to your computer to access a website. This enables dangerous content to be detected before you open the page.
System requirements
Windows 11 / 10 2 GB RAM (32 and 64 bit), CPU with x86- or x64-architecture
macOS 10.12 and higher, 2 GB RAM
Android 5 and higher
iOS 12.4 and higher
an Internet connection is required for the installation as well as for virus signature and software updates
1 other product in the same category: