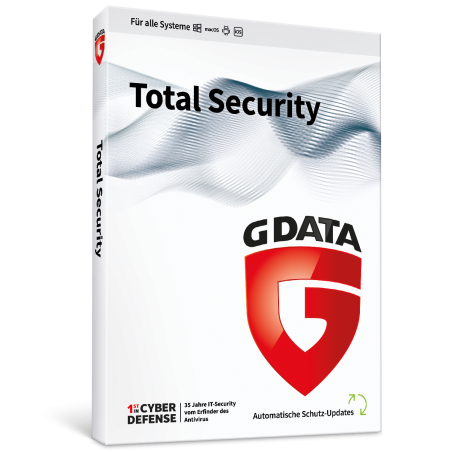  
G DATA TOTAL SECURITY 1 PC 1 YEAR
Secure and Fast Payments
Only E-Mail Shipping
100% Original and Guaranteed Licenses
Professional Technical Assistance
Total Security
Simply more intelligent: Your complete, worry-free package for maximum security on all your devices
Innovative
Best G DATA protection for Windows: Our brand new DeepRay® and BEAST technologies use artificial intelligence and behavioral analysis to detect camouflaged and previously unknown malware.
Simply cleverer
Photos, videos, documents: Back up your data automatically and save the copies on your PC or in the cloud. Now nothing can go wrong.
No need to remember passwords
Password123? Better not. Our password manager remembers all your passwords for you and creates new ones on demand that can't be cracked.
Anti-Ransomware
No opportunity for extortion Trojans: our Anti-Ransomware technology detects extortion Trojans before they can take your data hostage. We protect you against criminals trying to encrypt your photos, documents and personal data.
Passwortmanager
This function memorises your passwords for online shops, forums, your email account and much more. Simply integrate our Password Manager into your browser. Passwords and contact data are filled in automatically if required.
Backups
Automatically back up your data locally on your PC or in the Cloud. With password-protected backups, your data always stays protected. Use Google Drive or Dropbox for your data backup.
Encryption
Protect confidential information and files with a password. Then they can only be accessed by people you genuinely trust. Also encrypt external storage media such as USB sticks in this way. Encrypt them by simply using your secure password – without having to install software first.
G DATA BankGuard
Make your banking transactions and online shopping secure – with our patented BankGuard technology. This function ensures that your browser only displays genuine content.
Access control
Specify who is allowed to use USB sticks, burners, hard drives and other devices on your PC. With Access Control, you can manage the use of all your USB slots. This will stop malware getting onto your computer via external storage media.
Browser Cleaner
Tidy up properly – with our Browser Cleaner you can remove unwanted toolbars and add-ons from Internet Explorer, Firefox and Chrome.
Performance-Tuner
Delete outdated cache entries and other ballast. Improve the performance of your PC with a few clicks.
Put your security solution together
Put your security solution together in the way that best suits your life. Combine our award-winning Antivirus programs in a way that matches your preferences and protect all of your devices with just one license – whether it's a Windows PC, Mac, Android smartphone, or iOS tablet.
Manage your devices easily
Does your family likes to surf, game, and shop online? It's difficult enough getting everyone on the same page.
But security doesn't have to be one of the chapters in that particular book: From now on, you can easily manage all of your family members' security solutions in your personal My G DATA area. Did you get a new tablet for your birthday? No problem! Add another Mobile Security quickly and easily. You can also renew your license in My G DATA at any time. By the way: Our solutions for Windows provide the possibility to set up a child-friendly browser, to share only certain
Virus protection with numerous extras
It has never been so easy to pay bills or make purchases. Your security solution can be as easy as online shopping. Opt for fast software installation and ease of use. With G DATA Total Security, you get our best protection for online banking, emails and critical data. A powerful virus scanner and numerous extras protect you against hacking, extortion and cyber attacks – without disrupting your work or leisure.
Strongly protected against ransomware
Cyber extortionists have been making the headlines in recent months. Encryption software with names such as Locky and Petya have been giving numerous PC users a scare. They play on the fear that your photos, videos and memories will disappear forever.
The malware encrypts the data on your computer and threatens to only unencrypt it once you pay a ransom. Put a stop to extortion on your PC. With G DATA Total Security, you get ransomware protection that stops extortion Trojans in their tracks.
An end to crib sheets, thanks to Password Manager
The Generation 2020 software is built for convenience. We have enhanced our complete package with G DATA Password Manager. Simply add it to your browser as a plug-in. From then on, you only need the key to your password safe. The new function memorises all access data for online shops, forums and your email account for you. This means you can work with cryptic and hence extremely secure passwords without needing to memorise them. With just one click, Password Manager fills in passwords and contact data for you and saves you valuable time.
A safe for your data
Photos of your children, holiday videos and digital souvenirs are secure – with automated backups*. Protect yourself against data loss – simply and effectively. G DATA Total Security stores your data with password protection – locally on your PC or uploaded to a secure Cloud. Use Google Drive or Dropbox. All with no additional installation.
Safeguard what is close to your heart. Photos and documents are also kept safe in the event of an extortion or hacker attack – and they stay protected in a secure location.
Data encryption protects against unauthorized access
With the data encryption* of G DATA Total Security you protect confidential information and files separately with a password. So only people you trust have access to it. Use our virus protection to encrypt external storage media - such as USB sticks - and decrypt them with your password alone. With our access control, you determine who can use USB sticks, hard disks or other devices on your PC.
System requirements
Windows 11 / 10 min. 2 GB RAM (32 and 64 bit), CPU with x86- or x64-architecture
macOS 10.12 and higher, 2 GB RAM
Android 5 and higher
iOS 12.4 and higher
An Internet connection is required for the installation as well as for virus signature and software updates
1 other product in the same category: