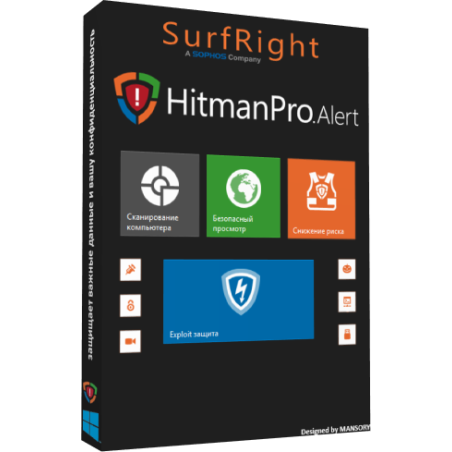  
HITMAN PRO ALERT 1 PC 3 YEARS
Removes malware. Prevents hacking
Secure and Fast Payments
Only E-Mail Shipping
100% Original and Guaranteed Licenses
Professional Technical Assistance
HitmanPro.Alert
Removes malware. Prevents hacking. Stops Ransomware. Always On.
It's one thing to clean all that gunk off your computer. It's another to keep it consistently clean. HitmanPro.Alert not only removes malware – it works in the background to stop a plethora of hacking attacks.
Includes HitmanPro features
All that cybersecurity goodness that exists in HitmanPro is included in HitmanPro.Alert. Sounds too good to be true? Welcome to security paradise.
Protect vulnerable programs
We hate to say it, but sometimes standard programs like Microsoft Word or Office are the weakest link. They can be weaponized against you, allowing for an open backdoor to your files and sensitive data. HitmanPro.Alert adds additional security layers around these vulnerable programs and replaces infected Windows resources with safe, original versions.
Stop zero-day ransomware
HitmanPro.Alert includes the CryptoGuard feature, which analyzes all encryption behavior. It's a ransomware stalker. When it recognizes unauthorized encryption, HitmanPro.Alert reacts. It creates backups of the files, then stops and removes the ransomware. Finally, it allows the files to be reverted back to their original state. No user interaction required, and no ransomware signatures needed.
Keep private stuff private
HitmanPro.Alert encrypts what you write online, making keyloggers useless at capturing sensitive data like credit card numbers and credentials. Also, HitmanPro.Alert beefs up your browser security to stop hacking exploits. But wait, there's more: receive alerts when your webcam is turned on by any program.
Deceive malware
Hackers don't want their precious malware to be studied by security experts. This is why so many malware programs self-destruct when they recognize a researcher. Taking this into account, HitmanPro.Alert makes its users all look like malware researchers, resulting in a lot of terminated malware. It's like getting honorary degree from a cybersecurity university.
Unlike free programs, HitmanPro.Alert doesn't sell your information or install unwanted apps, tool bars, or advertising programs. Our focus is providing easy malware removal and proactive security.
Compatibile with Microsoft Windows 10, Windows 11 32 e 64 bit.
3 other products in the same category: