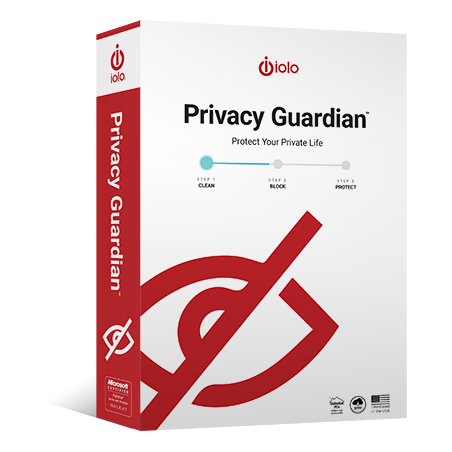  
IOLO PRIVACY GUARDIAN 5 PC 1 YEAR
Protect Your Private Life
Secure and Fast Payments
Only E-Mail Shipping
100% Original and Guaranteed Licenses
Professional Technical Assistance
Privacy Guardian™
Protect Your Private Life
Thwarts digital fingerprint tracking attempts
PC privacy software to keep search history private
Disables aggressive Windows®  data-collection settings
Deletes web-browsing traces stored on your PC
Automates cookie clearance
Enhances identity theft protection
If you are concerned with PC privacy, protect yourself with a PC privacy software program that was designed to block access to your sensitive data, device info and habits.
Online Ads Following You
Stop seeing annoying ads on the pages you visit and avoid spam emails with PC privacy software
Compromised Reputation
You could be denied credit through data collected privately about your shopping habits
Your Data For Sale
Broadband providers no longer need permission to sell your private data to advertisers
Digital Fingerprinting Protection
Maintains PC privacy and protects browsers from newer, more invasive forms of online tracking, profiling and data mining.
Automated Cookie Clearance
Lets you easily and regularly delete tracking cookies and browsing data from all your browsers at times you specify.
Advanced Whitelisting
Prevents data clearance on specific websites you choose.
Privacy Shield
Convenient wizard lets you disable aggressive data-collecting system settings that are otherwise not easy to turn off.
Private Search
Some search engines store, share, and sell what you look for, but not this one.
Tracking History
Shows attempts to capture your digital fingerprint that were thwarted, as well as a list of tracking cookies removed from your PC.