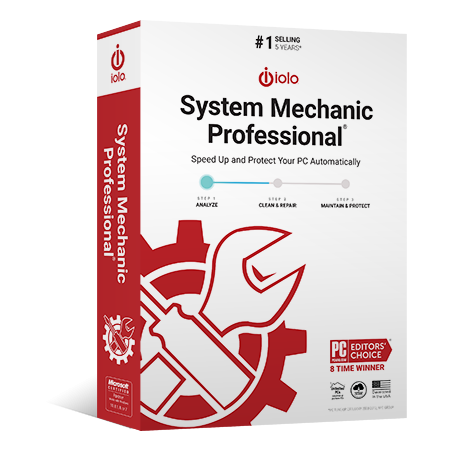  
IOLO SYSTEM MECHANIC PRO UNLIMITED PCS 1 YEAR
Speed Up and Protect Your PC Automatically and More
Secure and Fast Payments
Only E-Mail Shipping
100% Original and Guaranteed Licenses
Professional Technical Assistance
System Mechanic Pro®
Speed Up and Protect Your PC Automatically and More
Safeguards your PC with real-time antivirus protection
Speeds up and declutters with all the tools in System Mechanic®
Detects the newest malware threats with advanced artificial intelligence
Safely recycles old PCs with military-grade drive wiping technology
Recovers irreplaceable photos, videos and more across many device types
Removes system-hogging bloatware that slows you down
Overview
Protect and tune your computer — automatically. Combining four award-winning iolo PC cleaner, antivirus, and data security products, System Mechanic Professional is everything you need to keep your PC safe, fast, and error-free.
Boosts Speed
Automatically increases the speed and availability of CPU, RAM and hard drive resources when you launch high-demand apps for the smoothest gaming, editing and streaming.
Repairs
Finds and fixes over 30,000 different issues using intelligent live updates from iolo Labs™ to keep your PC stable and issue-free.
Removes Bloatware
Identifies unwanted startup programs that slow you down by launching and running without your knowledge.
Protects Privacy and Security
Safely wipes sensitive browsing history and patches Windows security vulnerabilities that can harm your computer.
Unleashes Internet Speed
Automatically optimizes hidden Windows internet settings for faster downloads, snappier page loads, less buffering, improved video quality and smoother gaming.
Cleans Out Clutter
Removes over 50 types of hidden junk files to free up valuable disk space and make more room for your documents, movies, music and photos.
Features
Automated PC Care
Advanced cleaning and repair removes more unsafe clutter and fixes more problems than ever before, going to work whenever your PC is idle.
Clean
A PC Cleaner that cleans up over 50 types of junk files with our enhanced PC Cleanup™.
Speed Up
Blocks bloatware at startup to accelerate boot time and improve system performance.
Protect
Antivirus protection that identifies and helps remove deceptive and potentially unwanted programs (PUPs) that are a nuisance and often major resource-drain on your PC.
PRO System Shield – certified antivirus and antispyware protection
that won't slow you down
PRO Search and Recover
recover accidentally deleted files, photos, email and more from any drive or media
PRO DriveScrubber
securely erase data from your hard drive
2 other products in the same category: