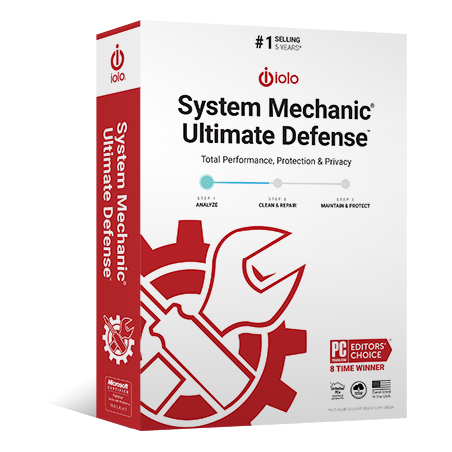  
IOLO SYSTEM MECHANIC ULTIMATE DEFENSE UNLIMITED PC 1 YEAR
7 Powerful Products in One Software Suite
Secure and Fast Payments
Only E-Mail Shipping
100% Original and Guaranteed Licenses
Professional Technical Assistance
System Mechanic®Ultimate Defense™
Total Performance, Protection & Privacy
Speeds up processor, memory, broadband, and hard drives
PC cleaner removes clutter and junk files that slow you down
Antivirus capabilities that block and remove the latest types of malware
Data recovery software to help you find and recover lost or deleted files
Password manager secures passwords and credit cards online
Shields browsing habits and thwarts personal data collection
Overview
System Mechanic Ultimate Defense builds on the PC cleaner and performance foundation of System Mechanic, adds the real-time AV and data protection features of System Mechanic Pro, plus secures your web browsing, manages passwords and credit cards, and removes malware on demand with the antivirus feature.
System Mechanic Ultimate Defense is the total package for all your security, privacy, and performance needs, now in one convenient interface.
Boosts Speed
Automatically increases the speed and availability of CPU, RAM and hard drive resources when you launch high-demand apps for the smoothest gaming, editing and streaming.
Repairs
Finds and fixes over 30,000 different issues using intelligent live updates from iolo Labs™ to keep your PC stable and issue-free.
Removes Bloatware
Identifies unwanted startup programs that slow you down by launching and running without your knowledge.
Protects Privacy and Security
Safely wipes sensitive browsing history and patches Windows security vulnerabilities that can harm your computer.
Unleashes Internet Speed
Automatically optimizes hidden Windows internet settings for faster downloads, snappier page loads, less buffering, improved video quality and smoother gaming.
Cleans Out Clutter
A PC cleaner that removes over 50 types of hidden junk files to free up valuable disk space and make more room for your documents, movies, music and photos.
7 Powerful Products in One Software Suite
Privacy Guardian™
Protect Your Private Life with Privacy Guardian
Thwarts digital fingerprint tracking attempts
Keeps search history private
Disables aggressive Windows® 10 data-collection settings
Deletes web-browsing traces stored on your PC
Automates cookie clearance
Enhances identity theft protection
ByePass™
Safeguard Passwords and Credit Cards
Shields online passwords and credit cards from spying eyes
Works with most operating systems and web browsers
Generates and recommends new and secure passwords
Helps protect your online purchases
Allows you to avoid remembering and typing in your passwords
Remotely logs you out of all websites from wherever you are
System Shield™
Shield Your PC from Viruses and Dangerous Spyware™
Safeguards your PC with real-time antivirus protection
Speeds up and declutters with all the tools in System Mechanic®
Detects the newest malware threats with advanced artificial intelligence
Safely recycles old PCs with military-grade drive wiping technology
Recovers irreplaceable photos, videos and more across many device types
Removes system-hogging bloatware that slows you down
Malware Killer™
Find and Destroy Existing Malware
On-demand malware discovery and removal
Safely analyzes suspicious files with proprietary technology
Features a carefully developed threat-detection algorithm
Continually adds to a vast "reputation database"
Deploys artificial intelligence to discover the newest threats
Can even detect previously unknown threats
System Mechanic®
Fix & Speed Up Your PC Automatically
Deletes junk files that cause sluggishness and system instability
Boosts performance in real time for gaming, streaming, and downloading
Removes system-hogging bloatware you didn't know was there
Frees trapped memory and defragments drives for even more speed
Helps secure open router ports and connected home devices
Automatically cleans and repairs whenever your PC is idle
Search and Recover™
Rescue Accidentally Deleted Files FAST
Recovers deleted documents, music, photos, emails, and videos
Rescues critical work and cherished memories you thought were gone forever
Searches specific folders or your entire hard drive
Works with many hard drive types, cameras, and removable media
Can even recover data from certain damaged drives
One-click restoration makes it quick and easy
DriveScrubber®
Erase Data So It Can NEVER Be Recovered™
Permanently erases private files, pictures, and documents
Securely wipes all drives before selling, donating, or recycling your PC
Restores your drives to like-new after virus or spyware damage
Wipes PC drives, flash drives, memory sticks, cameras, and more
Built to satisfy strict government and military security protocols
Meets U.S. Department of Defense disk-sanitizing standard
2 other products in the same category: