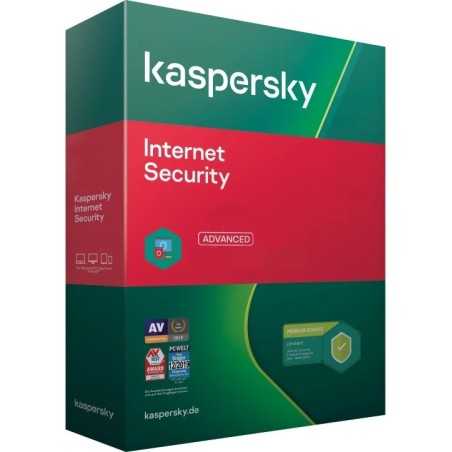  
KASPERSKY INTERNET SECURITY MULTIDEVICE X3 1 YEAR ESD
Your online activity & privacy covered
Secure and Fast Payments
Only E-Mail Shipping
100% Original and Guaranteed Licenses
Professional Technical Assistance
Your online activity & privacy covered
Protect your browsing, shopping, chats & data across your PC, Mac & Android devices. Get award-winning antivirus plus a range of tools built to guard your private life and identity. It also includes:
Free VPN with up to 300 MB of traffic per day
Safe Money to protect online payments & transactions
Webcam Protection to stop unauthorized access to your webcam
Compatible with:Windows®macOS®Android™
Full-scale protection from cyberthreats
Our three-layer defense engine works tirelessly to guard your devices and data. It blocks common threats like viruses and malware plus complex ones like spy apps, cryptolockers & XSS attacks.
Proactive detection
Searches out device vulnerabilities & threats
Real-time protection
Blocks cyberthreats before they take hold
Instant neutralization
Isolates & removes immediate dangers
Anti-Hacking
Anti-ransomware & network security controls stop hackers infiltrating your home network & stealing your data.
Anti-Virus
Real-time antivirus guards you from common threats like worms & trojans. Plus sophisticated ones like botnets & rogues.
Anti-Malware
Advanced anti-malware blocks dangers including keyloggers, adware, spear phishing, rootkits & man-in-the-middle attacks.
Ultra-reliable privacy protection
Secured Network
Get online privacy & freedom with VPN
Encrypt your data on risky public Wi-Fi
Hide your IP address, even from your ISP
Ensure your online actions aren't logged
Connect to ultra-fast private servers
Safe Money
Protect your money, identity & privacy
Make payments via an encrypted browser
Stop identity thieves with Anti-Phishing
Prevent keyloggers from recording your keystrokes
Lock your Android apps with extra security
Anti-Virus Defense
Multi-level protection built to identify, isolate & remove all types of malware.
Anti-Hacking
Prevent hackers breaking into your devices & exploiting your data for their gain.
High-Tech Protection
High-tech scanning detects complex threats like hard-to-detect fileless attacks.
Privacy Tools
Scramble your browsing history & online data while blocking webcam spies & stalker apps.
Home Protection
Features designed to protect you when you use your home Wi-Fi network & peripherals.
Additional Features
Tools to enhance your security, device performance & digital experiences.
One license covers all your devices
Select from our 1, 2, 3, 4, 5, or 10 device license options to get the all-round protection you need
System Requirements
Operating System
Windows®-based: Windows 11 / 10
Mac®: macOS® 10.12 – 12
Mobile: Android™ 5 – 12, iOS® 12 – 15
5 other products in the same category: