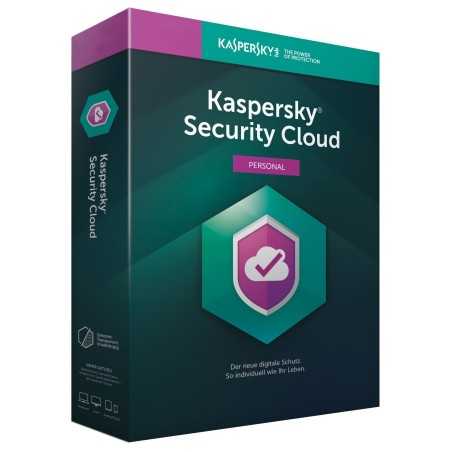  
KASPERSKY SECURITY CLOUD PERSONAL 3 DEVICES 1 YEAR
All our security apps. At your fingertips.
Secure and Fast Payments
Only E-Mail Shipping
100% Original and Guaranteed Licenses
Professional Technical Assistance
All our security apps. At your fingertips.
Access our entire family of apps for your desktops and mobiles. From antivirus to privacy and performance tools, pick what you want to stay safe from threats like malware, spyware and hackers. Enjoy exclusive features:
Check your online accounts for data leaks
Monitor your home Wi-Fi for intruders
Learn when HDD problems put your files at risk
Compatible with:Windows®macOS®Android™iOS®
Protection as individual as you are
Mix and match apps & get personal alerts
Protect yourself by selecting the security apps & features that suit you best. Plus receive personalized alerts straight to your devices. And enjoy smooth-running devices thanks to special technologies.
Combine apps & features to suit your needs
Get real-time alerts based on the things you do
Optimize your devices with cloud technologies
Security shaped by you
Install one app or every app - and use in any combination at any time on any device. So you always get the protection you need.
Personal real-time alerts
Receive alerts relevant to you. For example, find out instantly if a site you use gets hacked so you can change your password.
Device optimization
Because our security comes from the cloud, it's fast and light on your devices - helping your PCs, tablets & mobiles perform well.
Privacy tools when you need them
Secured network
Young woman using phone connected to a secure network
Get online privacy & freedom with VPN
Secure up to 500MB of traffic per day
Hide your IP address, even from your ISP
Ensure your online actions aren't logged
Connect to ultra-fast private servers
Safe money
Man purchasing online using his credit card
Protect your money, identity & privacy
Make payments via an encrypted browser
Stop identity thieves with Anti-Phishing
Secure your passwords in a private vault
Lock your Android apps with extra security
Exclusive to Kaspersky Security Cloud
Account Check
If hackers have your email addresses, they can break into your Netflix, Facebook or other accounts.
Enter your email addresses to see if they've been leaked from your accounts & get advice on how to manage issues.
Home Network Monitor
Get notified when a new device joins your home Wi-Fi network so you can identify unauthorized guests & kick them out.
Plus use the same technology to monitor smart devices like your thermostat, oven or doorbell.
Hard Drive Health Monitor
Receive 24/7 monitoring of your internal and external hard drives, including reports on their performance, condition and temperature.
Get told instantly if problems are detected so you can backup your photos, files and data.
Keep your kids safe online & in the real world
Find your kids on a map, define a safe area for them to stay in and get alerted if they leave it.
View your kids' YouTube search history & stop them searching for inappropriate adult topics.
Block adult content and customize a list of sites your child can only visit with your permission.
Limit your kids' screen time per day, per device – and manage their access to games and apps.
Expert reviews
KSC has been designed to use Adaptive Security. This feature involves additional protection being turned on in situations when the user makes an unsecured Wi-Fi connection and advice given when a password might be under the threat of being hacked
System Requirements
Operating System
Windows®-based: Windows 11,10Mac®: macOS® 10.14 – 12
Mobile: Android™ 5 – 12, iOS® 14 – 15
Technical Requirements
Internet connection
Memory RAM: Min 1 GB (PC) or 2 GB (Mac)
Disk Space: Min 1.5 GB (PC) or 2.1 GB (Mac)
Languages
English
Indonesian
Lithuanian
Latvian
Estonian
Spanish (Latin America)
Portuguese (Brazil)
Russian