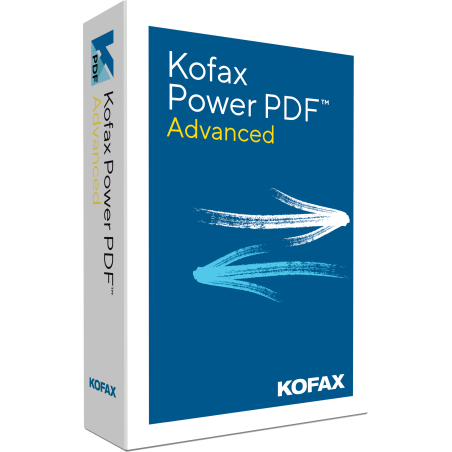  
KOFAX POWER PDF 4.0 1 PC ADVANCED
Effective program to convert, edit and share PDF files
Kofax Power PDF Advanced 4.0 Windows
 If you are looking for an effective program to convert, edit and share PDF files, you can rely on Kofax Power PDF Advanced 4.0 Windows. The program impresses with a wealth of functions and makes it possible to significantly simplify business processes. This makes it easy to optimise administration and to access a secure solution for a wide range of applications.
Fast to more productivity
When it comes to increasing productivity under daily workloads, the PDF program provides significantly more structure. This enables both individual users and companies to rely on a good solution for the many different tasks associated with PDF files and to use significantly less time. Fast and precise adaptation is thus ensured without difficulty.
To further increase productivity, Kofax Power PDF Advanced 4.0 Windows supports many types of documents. This makes it easy to turn many structures into secure and clear PDF files and simplify creation. With just a few clicks, outstanding PDF files can be created from numerous documents, so users no longer have to worry about structure and traceability.
The most important advantages at a glance
Easy creation and compilation
Exact versions in PDF form
Ideal for more productivity in the company
Compatible with many devices and platforms
Integration of extended functions such as blacking
Holistic licensing possible within the company
 Secure structures for daily use
Especially when the programs are used frequently, it is important to use secure structures and a fully-fledged application. Kofax Power PDF Advanced makes this possible without any problems, ensuring that the existing data is saved in excellent quality. This also makes it possible to work together on projects with others and to share the created documents easily.
Anyone who wants to buy Kofax Power PDF Advanced 4.0 Windows can therefore rely on a superior structure for regular use and benefit from a high level of connectivity. By connecting the program to a wide range of devices, it is possible to provide much more comfort in daily use to respond to every conceivable situation.
Convincing solutions with Kofax Power PDF Advanced 4.0 Windows
Together with the appropriate PDF solution, it is easy to purchase a suitable alternative to Adobe. Thus, the user has access to a much better structure to safely handle any existing use case. In combination with suitable functions, it is easy to design the use exactly according to one's own needs and to keep an eye on the documents. With Kofax Power PDF Advanced, a PDF document can be created from any conceivable file, so nothing stands in the way of a secure and convenient solution.
What exactly are they offering?
Anyone who wants to buy Kofax Power PDF has access to an innovative tool for all conceivable applications in connection with PDF files. These can be created, edited, converted and then released.
What features are available?
Users can expect enormous flexibility by creating and editing PDFs. Along with other features like blackening, data protection is an important feature that Kofax Power PDF Advanced provides.
Who is the target group for the product?
Kofax Power PDF Advanced 4.0 Windows is designed for both private users and businesses. This means that it is not difficult to access secure file structuring throughout the company if desired, or to be on the safe side for individual projects. In this respect, the possibilities for application are seemingly unlimited.
What makes the product so good?
If you want to buy the PDF program, you can rely on its individual usability in any situation. This makes version 4.0 an enrichment for sales and private processes, so that a professional alternative to Adobe can be found. With Kofax Power PDF Advanced 4.0 Windows, numerous programs from other manufacturers are therefore connected in one version.
Which license is available?
The license for one user is available directly from us. It is unlimited in time and thus offers usability for an indefinite period of time. Of course, whole offices and companies can also be equipped with the program, so that the application is no problem even in larger environments.
Power PDF 4.0 supports the new ISO 2.0 standard
The new PDF 2.0 standard focuses on the file format and ensures both compatibility and security in programs that use and process the files. With the new Power PDF, you can be confident that you are creating fully compatible and secure PDF documents.
Sign or send PDF files for signing with the leading electronic signature service DocuSign
Whether approval, conclusion of a purchase or signing of a contract - with the worldwide appreciated, reliable electronic signature service DocuSign®, signatures become child's play. You can now either sign your PDF documents yourself or have them sent and signed using the integrated DocuSign® functions in the "Security" function bar.
Teamwork in real time - precise results right from the start
Documents can be created directly in Power PDF and jointly revised in real time. This eliminates the need for constant back and forth and makes everyone more productive.
All-round flexibility
With Power PDF, you can now set the user interface to the color that best suits you. Choose between blue, light grey, dark grey or the familiar purple. You can now also choose to view documents in separate tabs within a Power PDF window, or view each document in a separate Power PDF window.
Combine all open files with a single click
Power PDF now offers a highly efficient way to merge all open documents into a single PDF file. Simply click the "Combine All" option on the Start toolbar. The original file names are automatically bookmarked.
Improved accuracy during conversion
Nuance OmniPage technology has been further enhanced since the last version. It now offers even better word and number recognition and layout accuracy.
Improved text editing
With Power PDF, text in Edit Mode can now be more easily divided into blocks for easier editing and viewing.
Improved PDF creation for web content
Convert web pages or entire sections of a website into interactive PDF files with automatically embedded hyperlinks - directly from Power PDF.
Context-sensitive toolbars for editing
By selecting a specific element, you get quick access to all functions that are relevant to your current work - an enormous time saving.
Improved functions for page arrangement
In the Document Assembly view, you can easily exchange or duplicate one or more pages within the document.
Simplified editing of free-form annotations
Editing freeform annotations in Power PDF has been greatly simplified and accelerated by allowing adjacent freeform annotations to be grouped together.
Embedding MP4 video files
Insert this popular, high-quality compressed video format directly into a PDF file created with Power PDF or attach it to a PDF Portfolio.
Security certificate check for JavaScript
Customers whose JavaScript execution is restricted by privacy policies can now request a valid, signed certificate, reducing the risk of attack in their organization.
Right-to-left text editing
Text and comments in languages that are written and read from right to left (Arabic, Hebrew, etc.) can now be easily edited in Power PDF.
Good for your business - and for your IT
Adaptable range of functions
Supports Windows Terminal Services (WTS) and Citrix; a configuration tool allows you to tailor the functionality to your users' needs
Increased productivity through automated processes
With automation API for controlling functions in the application. You can program your workflows to fit your internal policies and procedures.
Conversion of legal documents
Use the Convert Wizard to convert legal documents to PDF format - including stamping and line numbering.
Custom stamps
Bates stamps allow you to create custom stamp profiles to insert information into headers or footers.
Data capture from forms
Export data from completed forms for search and analysis in popular formats such as XFDF, XML, TXT, and CSV.
There's still one little thing to change
Dictation tool for notes
Use Dragon® Notes, a built-in speech recognition tool, to quickly and accurately annotate PDF files - no keyboard input, just your voice.
Clever search functions
The intelligent search function Looks Like Search™ uses alphanumeric pattern matching and ensures that you can find content such as telephone numbers, e-mail addresses and insurance numbers straight away.
Page-by-page document comparison
Quickly determine the differences between document versions. The page-by-page comparison tool highlights visual and text changes in color and summarizes all changes in one easy-to-read report.
Minimum system requirements
Computer with Intel Pentium 4 or equivalent or higher processor
Operating systems:
Windows 11; 32-bit or 64-bit edition
Windows 10; 32-bit or 64-bit edition
Windows 8.1; 32-bit or 64-bit edition
Windows 7; 32-bit or 64-bit edition with Service Pack 1
 further requirements:
512 MB working memory (RAM), 1 GB recommended
700 MB free hard disk space required for application files, additional hard disk space required for temporary installation files and additional user interface languages
Sound card for using the included text-to-speech engine (optional). A noise-canceling headset microphone is required for Dragon Notes dictation.
An Internet connection is required for product registration and activation, Dragon Notes, and online updates.
Microsoft .NET Framework 4.5 If this component is not found, it is installed with the product.
Note: Performance and speed can be improved if your computer exceeds the minimum processor, memory, and available disk space requirements.
3 other products in the same category: