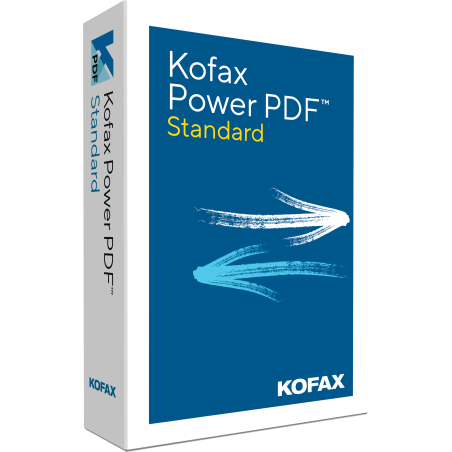  
KOFAX POWER PDF 4.0 1 PC STANDARD
Easy editing directly in PDF
Secure and Fast Payments
Only E-Mail Shipping
100% Original and Guaranteed Licenses
Professional Technical Assistance
Kofax Power PDF Standard 4.0 - Win -Mac
Convert, edit, comment and distribute documents - easily and securely, from and to any application
Easy editing directly in PDF
formatPDF creation from any PC application
Convert PDF files to your preferred formats
Fillable forms by mouse click
Dictating Notes with Dragon
Protected documents, secure content
Nuance Power PDF Standard offers demanding users an easy yet highly accurate way to get a handle on their PDF files.
Create, convert, merge, search, browse, edit and deliver files in the cloud according to the new PDF 2.0 industry standard: Power PDF is the next generation PDF solution.
It supports touch-enabled Windows® 10 devices, so you can stay productive wherever you are-at your desk or on the road. Nuance Power PDF Standard is the leading solution for consumers and small businesses.
It offers ease of use and accuracy at an unbeatable price, and it eliminates the compromises normally associated with PDF applications.
Power PDF 4.0 supports the new ISO PDF 2.0 standard
The new PDF 2.0 standard focuses on the file format and ensures both compatibility and security in programs that use and edit the files. With the new Power PDF, you can be confident that you are creating fully compatible and secure PDF documents.
All-round flexibility
With Power PDF, you can now set the user interface to the color that best suits you. Choose between blue, light grey, dark grey or the familiar purple. You can now also choose to view documents in separate tabs within a Power PDF window, or view each document in a separate Power PDF window.
Combine all open files with a single click
Power PDF now offers a highly efficient way to merge all open documents into a single PDF file. Simply click the "Combine All" option on the Start toolbar. The original file names are automatically bookmarked.
Improved accuracy during conversion
Nuance OmniPage technology has been further enhanced since the last version. It now offers even better word and number recognition and layout accuracy.
Improved text editing
With Power PDF, text in Edit Mode can now be more easily divided into blocks for easier editing and viewing.
Improved PDF creation for web content
Convert web pages or entire sections of a website into interactive PDF files with automatically embedded hyperlinks - directly from Power PDF.
Context-sensitive toolbars for editing
By selecting a specific element, you get quick access to all functions that are relevant to your current work - an enormous time saving.
Improved functions for page arrangement
In the Document Assembly view, you can easily exchange or duplicate one or more pages within the document.
Simplified editing of free-form annotations
Editing freeform annotations in Power PDF has been greatly simplified and accelerated by allowing adjacent freeform annotations to be grouped together.
Embedding MP4 video files
Insert this popular, high-quality compressed video format directly into a PDF file created with Power PDF or attach it to a PDF Portfolio.
Security certificate check for JavaScript
Customers whose JavaScript execution is restricted by privacy policies can now request a valid, signed certificate, reducing the risk of attack in their organization.
Right-to-left text editing
Text and comments in languages that are written and read from right to left (Arabic, Hebrew, etc.) can now be easily edited in Power PDF.
Business-ready features
Easy editing directly in PDF format
Edit PDF files directly, as intuitively as in word processing: no need to convert to another application beforehand.
Create PDF files from any PC application
Buttons in the Microsoft Office toolbars allow you to create a PDF copy of your documents with a single click.
Convert PDF files to your preferred formats
Convert any PDF file into a fully formatted Microsoft Office document - complete with layout, columns, tables and graphics.
Protected documents, secure content
Determine who is allowed to view, print and change your documents - by assigning a password with optimal security standards: 256-bit encryption.
Dictate notes with Dragon
Add notes to PDFs: Dictate annotations easily with Dragon Notes speech recognition - three times faster than typing.
Fill out forms with a click of the mouse
Bring any form into PDF format with one click, fill in forms electronically and export form data to common data formats such as CSV, XML and TXT.
 Control and flexible working
Dictation tool for notes
Use Dragon® Notes, a built-in speech recognition tool, to quickly and accurately annotate PDF files - no keyboard input, just your voice.
Clever search functions
The intelligent search function Looks Like Search™ uses alphanumeric pattern matching and ensures that you can find content such as telephone numbers, e-mail addresses and insurance numbers straight away.
Page-by-page document comparison
Quickly determine the differences between document versions. The page-by-page comparison tool highlights visual and text changes in color and summarizes all changes in one easy-to-read report.
Minimum system requirements
Computer with Intel Pentium 4 or equivalent or higher processor
Operating systems:
Windows 10; 32-bit or 64-bit edition
Windows 8.1; 32-bit or 64-bit edition
Windows 7; 32-bit or 64-bit edition with Service Pack 1
macOS 10.14, 10.13, 10.12 (Mojave, High Sierra, Sierra)
further requirements:
512 MB working memory (RAM), 1 GB recommended
700 MB free hard disk space required for application files, additional hard disk space required for temporary installation files and additional user interface languages
Sound card for using the included text-to-speech engine (optional). A noise-canceling headset microphone is required for Dragon Notes dictation.
An Internet connection is required for product registration and activation, Dragon Notes, and online updates.
Microsoft .NET Framework 4.5 If this component is not found, it is installed with the product.
Note: Performance and speed can be improved if your computer exceeds the minimum processor, memory, and available disk space requirements.
2 other products in the same category: