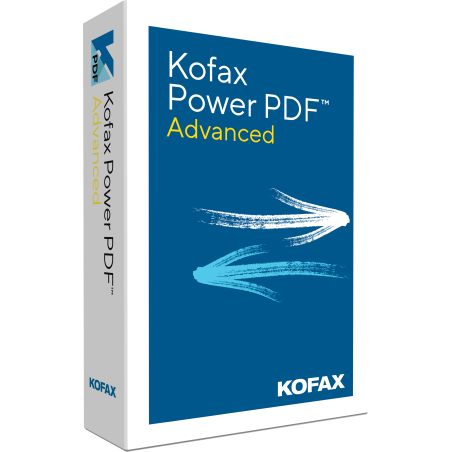  
KOFAX POWER PDF 5.0 1 PC ADVANCED
Everything You Need In a PDF Editor
Secure and Fast Payments
Only E-Mail Shipping
100% Original and Guaranteed Licenses
Professional Technical Assistance
Everything You Need In a PDF Editor
A powerful PDF editor that converts, creates and edits PDF files.
Home office users, students and small businesses trust Kofax Power PDF™ Standard to manage their PDF needs. It's packed with features, easy to use and available at an unbeatable price on both Windows and Mac platforms. And with no monthly fees, you pay for it once and own it forever.
A PDF Editor Without a Subscription or Monthly Fees
Create, edit and compile PDF files from almost any document or file type.
Easily convert PDF files to other formats, including Word, Excel, PowerPoint and more.
Go mobile with Power PDF on iOS and Android.
Customers Love Power PDF
Our users have spoken, and they love how Power PDF saves them time and money, and makes their working lives more productive. Here are some of the awards earned from numerous glowing reviews.
Functions:
Create PDFs from any document, web page, or directly from your scanner
Merge multiple files into a single PDF
Convert PDF to and from Microsoft Word, Excel, PowerPoint
Automatically convert a PDF file into a fillable PDF form
Proofread and correct text after OCR conversion to searchable PDF
Add secure encrypted passwords and permissions to PDF files
Create and apply self-sign digital signatures
Add, manage, view and navigate document digital signatures
Inspect document to remove comments and private metadata
Browser extension for Chrome and Edge to open and create PDFs
Proximal 'fuzzy search' to find more results in typos, word orders, etc.
Mobile solutions to read and annotate PDF, fill out forms, handwrite and sign signatures
Native cloud integration with Microsoft OneDrive, Dropbox, Box and Google Drive cloud storage
Enhanced features for adherence to accessibility standards for people with disabilities
Redact text and graphics from PDF files  (only available on Standard for MAC and Advanced Version)
Bates stamping with advanced formatting and page positioning (only available on Standard for MAC and Advanced Version)
Server add-on for the iManage 10 Web Client (only available on Advanced Version)
View protected PDF files & apply protection to PDF docs using Microsoft Active Directory or Microsoft Azure Rights Management Services (RMS) (only available on Advanced Version)
Enhanced integration with Kofax SignDoc (separate purchase required) (only available on Advanced Version)
OS Compatibility
Standard Version
Microsoft Windows 8.1, 10, & 11 (32-bit and 64-bit editions)
MacOS 10.14 through 12 Monterey
Advanced Version
Microsoft Windows 8.1, 10, & 11 (32-bit and 64-bit editions)
2 other products in the same category: