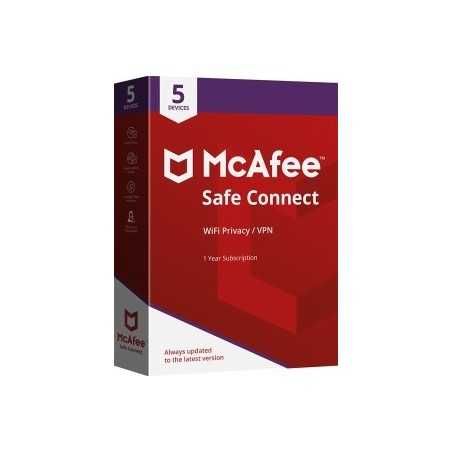  
MCAFEE SAFE CONNECT VPN PREMIUM 5 DEVICES 1 YEAR
Browse confidently and securely
Secure and Fast Payments
Only E-Mail Shipping
100% Original and Guaranteed Licenses
Professional Technical Assistance
Browse confidently and securely with VPN, wherever you are
Confidently browse, bank, and shop online. Protect your personal data and credit card info with McAfee Secure VPN—smart VPN that automatically turns on when you need it.
Windows® | Android™ | iOS®
How does McAfee protect your privacy?
Bank-grade encryption​
​Your data is protected using the same technology that banks use
Automatic protection​
VPN turns on for you on unsecure networks​
Browse confidently​
Stay anonymous and secure from advertisers and prying eyes
Fast and easy-to-use​
Connection speeds that keep up with you
Your personal, private connection
Turn unsecure, public Wi-Fi networks into your own personal, secure connection.
Connect safely to public Wi-Fi by encrypting (or scrambling) your data.​
We don't log or track what you do online, so your online activity remains private. ​
Our VPN technology is independently reviewed and audited to ensure your sensitive info stays secure.
Turns on automatically, when you need it
Connect in confidence, knowing that we'll automatically turn on VPN if you're on an unprotected network. You can also choose to keep your VPN on all the time, for an even safer online experience.
Stay connected across the globe
Whether you're travelling to a different country or your local cafe, you can count on almost 50 server locations worldwide for VPN stability and fast connection speed.
Frequently Asked Questions
WHATS IS A VPN?
Much like a firewall protects the data on your computer, a VPN (Virtual Private Network) protects your activity by encrypting (or scrambling) your data when you connect to the internet from a remote or public location so you can hide your IP address and online activity.
WHAT DO I NEED VPN?
While convenient, connecting to public Wi-Fi can expose your sensitive data such as your physical location, banking account credentials and credit card information to prying eyes. McAfee Secure VPN uses AES 256-bit encryption to keep your browsing information private – encryption strong enough to even safeguard banks. Keep your online habits protected at home and on-the-go and minimize exposure of your personal data no matter how you connect online.
WHEN SHOULD I USE VPN?
We recommend using a VPN when you're connecting to untrusted, public Wi-Fi networks such as at airports, cafés, and hotels. Using a VPN to protect your personal data is especially important if you plan on making any purchases or financial transactions while connected. With McAfee Secure VPN, we can help turn on VPN automatically on these unsecure networks so you can browse in confidence.
Sistem Requirement
Microsoft Windows 11, 10 (32- and 64-bit). Windows Enterprise not supported.
Google Android smartphones and tablets 7 or higher
Apple iOS 13 or later
Chrome OS