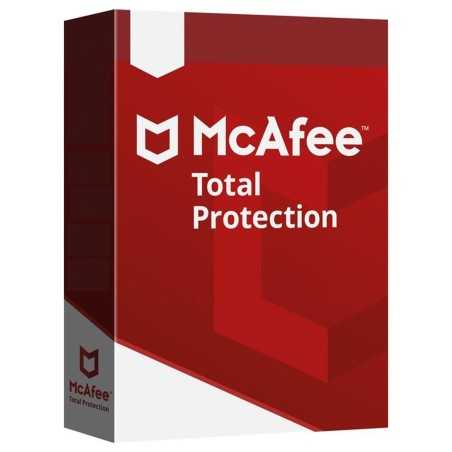  
MCAFEE TOTAL PROTECTION 5 DEVICES 1 YEAR
Secure and Fast Payments
Only E-Mail Shipping
100% Original and Guaranteed Licenses
Professional Technical Assistance
McAfee® Total Protection
Premium security
Antivirus
Personal Data Cleanup
Identity monitoring
Windows® | macOS® | Android™ | iOS®
How does McAfee protect you?
Advanced monitoring
Faster and broader detection for your identity.
Custom guidance
Industry-first Protection Score with tips to keep you safer.
Personal Data Cleanup
New! Remove your personal info from high-risk data broker sites.
Award-winning antivirus
Protect your computer and personal information from hackers and criminals.
Firewall
Secure your firewall and block hackers from accessing your home network.
Password manager
Securely store and manage all your online passwords in a single location.
File shredder
Delete sensitive files completely to ensure no traces are left behind.
Identity monitoring
Monitor up to 10 email addresses and get expanded monitoring with auto-renewal turned on.
Web protection
Browse freely and safely with ease.
Find out which sites are selling your personal data
Knowing where your data is online is a good first step to protecting your privacy. McAfee's Personal Data Cleanup shows you which high-risk data broker sites are selling your info like home address, birthday, names of relatives.
Breach alerts, 10 months faster
Every second counts. We help you monitor your email, SSN, bank accounts, credit cards and more. If we detect a change, you'll be alerted up to an average of 10 months sooner before our competitors.
Protection Score keeps you safer
Protection Score checks the health of your online protection and provides simple instructions to improve your security. Knowing how safe you are is the first step toward a safer life online
System Requirement
Microsoft Windows 11, 10, 8.1 fully patched (32- and 64-bit). Windows Enterprise not supported.
Build 4.11.1 or higher: macOS 10.15 and above
Build 4.9.1: macOS 10.12 - 10.14
Google Android smartphones and tablets 8 or higher
Apple iOS 13 or later
4 other products in the same category: