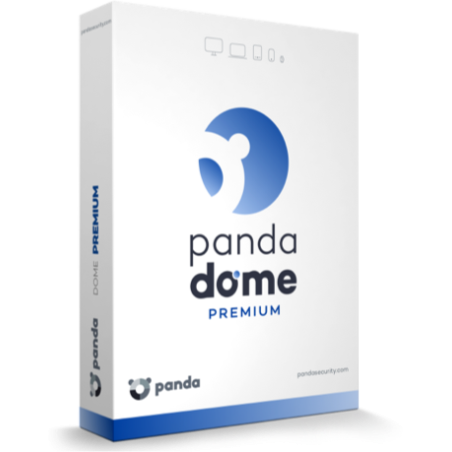  
PANDA DOME PREMIUM 1 DEVICE 1 YEAR
The best antivirus protection
Secure and Fast Payments
Only E-Mail Shipping
100% Original and Guaranteed Licenses
Professional Technical Assistance
The best antivirus protection
PANDA DOME PREMIUM brings together Panda's best protection, privacy and performance features into a single solution. This high-end, cross-platform antivirus product allows you to enjoy all your devices with complete peace of mind.
It's the ideal solution for all of your family's devices:
Update Manager
The Panda Dome Premium Update Manager keeps your device's operating system and programs always up to date. Scan your computer for vulnerabilities and automatically download all patches required to update vulnerable programs.
Premium VPN
PANDA DOME PREMIUM provides 22 virtual locations for you to access all Internet content without limits or borders: TV series, social media sites, sports, etc.
Browse the Internet anonymously, privately, and safely,wherever you are.
Parental controls
PANDA DOME PREMIUM allows you to monitor your children's online activities and location, blocking access to inappropriate applications and contents.
Data protection
PANDA DOME PREMIUM provides maximum privacy protection. Prevent identity theft and personal data loss.
Cell phone locator
Have you lost your iPhone or smartphone? Don't worry, with PANDA DOME PREMIUM you'll be able to quickly find your lost or stolen mobile device.
Password manager
With PANDA DOME PREMIUM's password manager, all you'll need to remember is one single master password, which will give you access to all of your other passwords securely with just one click.
Anti-ransomware protection
PANDA DOME PREMIUM protects your Windows, Android and Mac devices from all kinds of attacks, including ransomware.
Tuneup
With PANDA DOME PREMIUM, say goodbye to seeing your devices slow down over time! Optimize your devices' performance and keep them running like new at all times.
For all your devices
Antivirus for Windows, Android and Mac