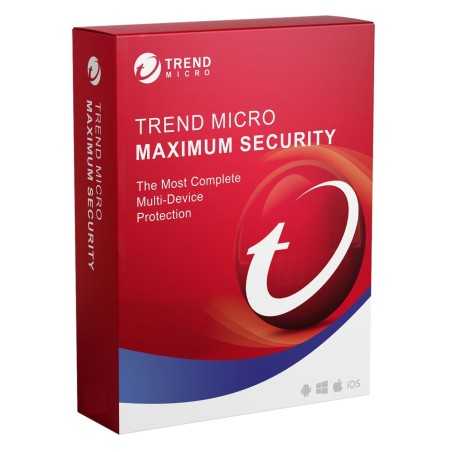  
TREND MICRO MAXIMUM SECURITY 3 DEVICES 2 YEARS
Secure and Fast Payments
Only E-Mail Shipping
100% Original and Guaranteed Licenses
Professional Technical Assistance
Maximum Security
Great protection for up to 10 devices
Compatible with Windows®, Mac®, AndroidTM, iOS, Chromebook
Protects against ransomware
Advanced machine learning
Protects against email fraud
Trend Micro PayGuard
Protect children on the Internet
Protect privacy on social media
Troubleshoot and optimize systems
Protect all devices
Provide the same security to your PC, Mac and mobile devices.
Protect your transactions
Bank online with Pay Guard to ensure the legitimacy of financial sites.
Block web threats
Protect yourself from ransomware and other Internet dangers.
Protect your privacy
Block dangerous websites that can steal your personal data.
Protect your children
Allow children to explore the web safely, with restrictions on both time and content.
Optimize performance
Troubleshoot common problems and get everything up and running at top speed.
Avoid fraud and scams
Avoid phishing emails.
Stop ransomware and other threats
Get complete multi-device protection against ransomware, viruses, dangerous websites, and identity theft. An enhanced Folder Shield protects your valuable files and digital assets locally and in cloud-synchronized folders such as Dropbox®, Google Drive® and Microsoft® OneDrive®. Trend Micro stops more than 250 million threats daily i so you can enjoy your digital life safely.
Ready for Windows 11? we are
Trend Micro Maximum Security is fully compatible with Windows 11 so you can shop, play, and socialize online with the confidence that you and your devices are protected by world-class protection against the latest malware, fraud, and scams.
Defend against the unknown
Our cloud-based AI technology provides proactive and highly effective protection against ever-evolving malware infections. You can trust Trend Micro to defend you from both familiar and never-before-seen attacks alike, keeping you one step ahead of the ever-changing threat landscape.
Protect your entire mobile world
The phone and tablet also need protection. Get advanced mobile device security against viruses, spyware, theft, and other related threats with protection that detects 100% of malicious apps.
System Requirements
Windows operating system
Microsoft® Windows® 8.1 (all versions)
Microsoft® Windows® 10 (Windows 10S and ARM processors only supported by Trend Micro Security in the Microsoft Store)
Microsoft® Windows® 11
Apple® Mac operating systems
macOS 10.14 to 10.15 and macOS11 Big Sur
Chrome OS operating system
Chrome OS 79 or higher (Chromebooks only compatible with Trend Micro Security in the Chrome Web Store)
Android operating systems
Android 4.1 or later.
iOS operating systems
iOS 9 or later. A 64-bit device is required for the latest version.
7 other products in the same category: