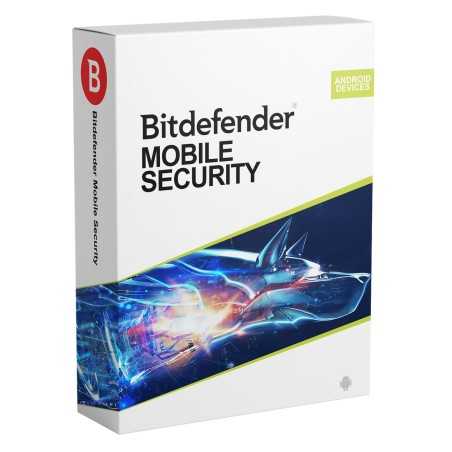  
BITDEFENDER MOBILE SECURITY 3 DEVICES 1 YEAR
Bitdefender Mobile Security for Android And IOS
Best protection for Android and IOS Devices
Bitdefender Mobile Security  gives your mobile devices absolute protection against viruses and malware.
Get Protection
Best protection for your  smartphone and tablet
Protects you from falling victim of link-based mobile scams
Secure VPN for a fast, anonymous and safe experience while surfing the web – 200 MB/ day IMPROVED
Remotely locate, lock and wipe your device in case of loss or theft
Account Privacy that verifies whether your email account has been breached
Minimal impact on battery life
Bitdefender. Choose What The Experts Use.
You get the most innovative technologies that predict, prevent, detect and remediate even the latest cyber-threats, anywhere in the world.
Best Protection 
Bitdefender Mobile Security provides unbeatable cloud-based malware detection and a smart anti-theft experience for your  device, with virtually no battery impact.
Protection
Bitdefender`s mobile security app keeps your device safe from all new and existing online threats.
Malware Scanner
Receive in-depth information about the type of threats you are protected against, so you know first-hand you've made the right choice to safeguard your  devices.
On-Demand & On-Install Scan
Scan your phone or tablet any time to make sure all your apps are clean. Plus, the antivirus module automatically scans each app once you install it, and immediately lets you know whether it poses any danger.
Web Protection
Browsing the Internet can take you to dangerous places, but Bitdefender security is always there to protect you. Our anti-phishing system scans webpages and warns you when you come across fraudulent pages.
Scam Alert
Proactive protection that detects link-based attacks delivered through messaging apps and notifications and prevents propagation through sharing.
WearON
WearON extends mobile security to your smart watch. And if you don't know where your phone is, use WearON from your  to activate a sound alert so you can easily find it. Receive an alert when you step too far away from your phone, so you never leave it behind.
Anti-Theft
With Bitdefender Anti-Theft, you can remotely locate, lock, wipe or send a message to your device in case of loss or theft. Plus, your phone is capable of self-defense: it snaps a mugshot of anyone who tries to tamper with it in your absence, then sends it to you in your Bitdefender Central account.
Performance
Bitdefender Mobile Security  reacts instantly to online threats without compromising your system's performance.
Autopilot
Bitdefender Autopilot is designed to act as a Security Advisor and to give you deeper insights into your security posture. Its smart capabilities mean that it can recommend security actions in the context of your system needs and usage patterns.
Battery & Performance Saver
We designed Bitdefender Mobile Security for to give you the most effective protection, combined with efficient power management. Since most heavy lifting takes place in the cloud, it doesn't drain your device's resources, and your battery life remains virtually unaffected.
Fast & Light-Weight
Bitdefender Mobile Security  is amazingly powerful against malware, yet easy on your phone's resources, so you won't see any negative impact on performance. On-demand scanning is lightning fast, and the app only adds a second to the reboot time.
Privacy
Bitdefender's mobile security app takes care of your online privacy and personal information.
Bitdefender VPN 
With Bitdefender VPN, you can stop worrying about privacy on the web. It protects your online presence by encrypting all Internet traffic. Bitdefender Mobile Security  includes up to 200 MB per day of encrypted traffic for your  device.
App Lock
App Lock protects your most sensitive apps so no one can mess with your settings or private info. Bitdefender Mobile Security  adds an extra layer of protection by giving you the possibility to lock apps with a PIN code. With Smart Unlock, you can set your phone to allow direct access to your protected apps when using a trusted Wi-Fi network.
Account Privacy
Check if your online accounts have been involved in any data breaches. With so many popular websites and apps issuing warnings about database leaks, it's easy to lose track of your exposed accounts. Account Privacy notifies you when your sensitive data is at risk, and lets you take action depending on its status.
Frequently asked questions
How does Bitdefender Mobile Security  protect me against viruses and cyber threats?
Bitdefender Mobile Security for  is the most advanced mobile security app for mobile devices, as proven by independent test scores over the past years.
You get a wealth of advanced security and privacy features for your smartphones and tablets - plus many bonus features, including VPN, Anti-Theft and WearON.
Easy to install and use, Bitdefender Mobile Security  reacts instantly to viruses and malware with no compromise to your system's performance.
What type of devices and operating systems does Bitdefender Mobile Security cover?
Bitdefender Mobile Security for will protect your smartphones and tablets running  against all cyber threats.
Why do I need Bitdefender Mobile Security ?
Some of your most personal data is stored on your  smartphone - and you need to know it is safe at all times. Bitdefender Mobile Security  provides absolute protection against cyber threats and takes care of your online privacy and private information without interfering in your day-to-day activities.
Do I get a VPN with my Bitdefender Mobile Security subscription?
Bitdefender Mobile Security comes with a basic version of Bitdefender VPN that includes a generous amount of traffic (200 MB/ day, a total of 6GB/ month), free of charge.