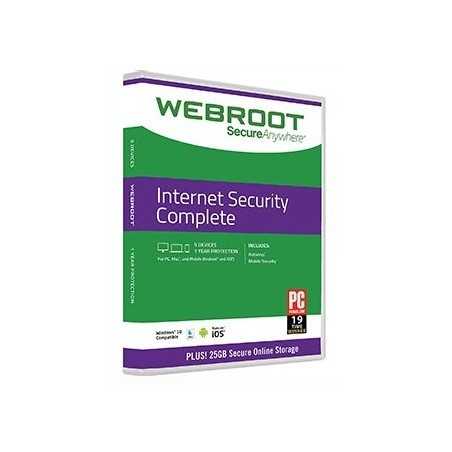  
WEBROOT SECUREANYWHERE INTERNET SECURITY COMPLETE 5 DISPOSITIVOS 1 AÑO
Rendimiento y protección de vanguardia
Proteja su identidad con el Top of the Range.
Compatible con PC, Mac, tableta o teléfono inteligente *
Rendimiento y protección de vanguardia
Protección contra amenazas avanzada para PC y Mac
Seguridad permanente para datos e identidad
Protección para detener ransomware
Anti-phishing en tiempo real para bloquear sitios peligrosos
Monitoreo de conexión de red y firewall
Escaneos ultrarrápidos sin interrupción de actividades
Protección para smartphones y tablets*
Protección de cuenta y contraseña
Eliminación de rastros de actividades en línea
25 GB de almacenamiento en línea seguro, accesible desde cualquier lugar
* La protección de dispositivos IOS incluye navegador seguro, copia de seguridad y administración de contraseñas. No incluye el escaneo de aplicaciones de iOS para bloquear malware.
Requisitos del sistema
Microsoft® Windows® XP 32 y 64 bits SP2, SP3
Windows Vista® de 32 bits (todas las ediciones), Windows Vista SP1, SP2 de 32 y 64 bits (todas las ediciones)
Windows 7 de 32 y 64 bits (todas las ediciones), Windows 7 SP1 de 32 y 64 bits (todas las ediciones)
Windows 8 32 y 64 bits
Windows 8.1 32 y 64 bits
Windows 10 32 y 64 bits
Mac OS X 10.7 (Lion®)
Mac OS X 10.8 (Mountain Lion®)
OS X 10.9 (Mavericks®)
OS X 10.10 (Yosemite®)
OS X 10.11 (El Capitán®)
macOS 10.12 (Sierra®)
macOS 10.13 (High Sierra®)
macOS 10.14 (Mojave®)
macOS 10.15 (Catalina®)
Requisitos de seguridad móvil
Dispositivos Android™:
Sistema operativo Android™ versión 4.4 (KitKat) o posterior
Dispositivo compatible con Android™ con 3 MB de espacio de almacenamiento gratuito
Dispositivos Apple®:
Sistema operativo Apple® iOS® 10 y posterior
Compatible con dispositivos digitales móviles iPhone®, iPod Touch® y iPad®
2 otros productos en la misma categoría: